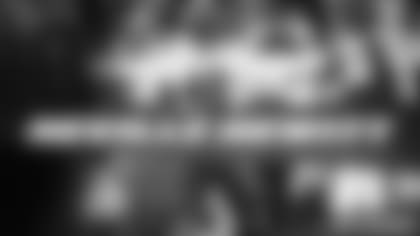 Fifth-year linebacker Neville Hewitt, one of the names and faces of the Jets' "Next Man Up" philosophy that helped keep the defense remarkably productive despite injury losses all season, has re-signed with the Jets.
Hewitt became an unrestricted free agent but then decided to return to the Green & White two days after the start of the signing period, for whom he played in 2018 and last year. He also opted to remain with head coach Adam Gase, who was his HC with the Dolphins, his first NFL team, in 2016-17.
He played in last year's season opener against Buffalo at outside LB. But with Avery Williamson already on IR and after C.J. Mosley went down during that game with his severe groin injury, Hewitt was pressed into duty at middle LB. He played on the inside the rest of the season, except for the four games he sat out with knee and neck injuries.
In his 12 games, Hewitt set a number of career personal bests: most starts (12), defensive snaps (762), interceptions (2), pass defenses (5), sacks (3.0), total tackles (78) and QB hits (8).
Speaking of tackles, Hewitt celebrated his move inside with 16 tackles in the Game 4 loss at Philadelphia, which was tied for ninth-most in a game by a Jets defender since 1998.
"That might've been my career high. It felt like it. I still feel it," Hewitt said in the days after that game. "But that's all part of it, playing linebacker."
"We love coaching guys that you have to pull back, not push forward," coordinator Gregg Williams said. "If Nev makes a mistake, it's full speed, full contact, here you go — that's what you want. At this level you can't pace yourself, you can't go seven-eighths speed. You have to be full go all the time. He's done a very good job in the versatility of playing three different positions, and being able to do the middle linebacker stuff is not easy, just from verbiage and checks and stuff."