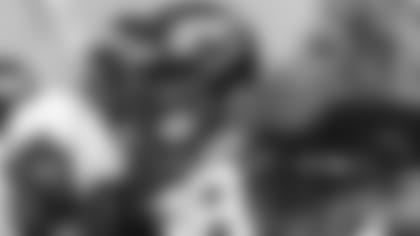 Kyle Phillips might have been undrafted, but he has been far from unnoticed.
The defensive lineman out of the University of Tennessee signed last year as a free agent and made an unexpected impact along the defensive line. He played multiple positions and even saw some time as an outside linebacker. On a club crying for a consistent and destructive push on the defensive front, Phillips has emerged as an unexpected and versatile surprise.
"Kyle was one of those guys that impressed me the most," said defensive line coach Andre Carter. "Being an undrafted free agent, he's just a guy who's so mature for his age. He's one of those players you hope can play 10 years. He just works hard. He's old school.
"He can play in various packages. He's smart. He's the least of my worries. He's one of those players you enjoy having in the room because he asks intelligent questions."
Phillips, 23, comes by his smarts honestly. He graduated early at Tennessee, with a degree in Communications Studies, and embarked on a Masters degree during his senior season. In Knoxville, he was also a member of the VOLeaders Academy Class, joining the group on a 13-day study trip to Vietnam in 2016-17. He was named to the SEC All-Academic Honor roll in 2015, '16 and '17. His mom, Teresa, is the athletic director at Tennessee State University in Nashville, his hometown.
"This year I've been focused on my day-by-day work, working on one thing each day to get better," Phillips, who is 6-4, 277 pounds, said. "Part of my focus is to be as versatile as possible, as smart a football player as I can be. Things have slowed down for me. Now I want to be a smarter football player in Year 2. To put myself in position to make plays."
Last season, playing in multiple positions as defensive coordinator Gregg Williams juggled and mixed his players on the D-line, Phillips turned in some quiet accomplishments. He was the team's leader in tackles for loss with 18 (according to coach's statistics) and finished in the top 10 among all NFL rookies. In 15 games (4 starts) Phillips made 52 tackles and had 1.5 sacks.
With an outgoing personality and a true sense of who he is, where he came from and aware of the weight of being a professional, Phillips earned the respect and appreciation of the Jets' equipment staff and past winners to earn the Bill Hampton Award as the rookie who acted like a pro in the locker room – friendly, courteous and neat.
"In Year 2 of this defense a lot of guys are playing faster and smarter, adjusting to what we've been building here," Phillips said. "It's been amazing being here with the guys. Being back together as a team has been uplifting for us."
With a fluid cast of characters on the D-line, Phillips is aware that his versatility is a big plus.
"In practice I move spot to spot," Phillips said. "It's great for me, it keeps me on my toes and allows me to be better, knowing how things fit helps me so much and I get to tell everyone else what to do. I can't complain."
Well, he could. But who would listen?