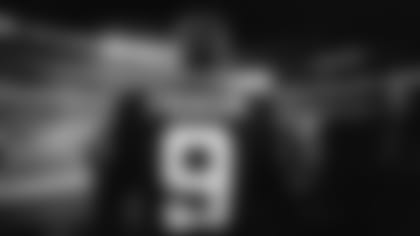 Sam Ficken is a cool customer. After the Monday night game against the Browns, the Jets' new kicker tipped his cap to the kicking woes the Green & White had been through this year when he said, shortly after drilling his 46-yard second-quarter field goal, "I think everyone had a little sigh of relief — including myself. But it's always good to start off on the right foot."
But that was just a touch of modesty from the former Penn Stater, who's spent several years looking for the ideal situation in which to ply his trade. (Coincidentally, his first pro game, for the Jaguars in the 2016 preseason opener, came vs. the Jets at MetLife Stadium.)
Other than acknowledging the MetLife crowd's roar, he declined to treat his only placement of the night as a major accomplishment.
"I had a good week of practice, I had a good warmup with the unit, so just go up there, pick my line and swing away. I've done it a million times. Obviously a little more pressure there, but happy to put one through for the team," Ficken said. "A 46-yarder is nothing heroic. I'm just doing my job."
Going 1-for-1 from decent distance does not a successful Green & White career make, but consider this piece of franchise trivia: Ficken from 46 was the third-longest successful attempt by a kicker on his first try in a Jets uniform. Second-longest was by Chandler Catanzaro from 48 yards at Buffalo in the 2017 opener. (The Catman was, of course, the first of the candidates to replace Jason Myers this summer, followed by Taylor Bertolet and Kaare Vedvik.)
The longest? Then-rookie John Hall went up to Seattle for the 1997 opener — also Bill Parcells' first game as Jets head coach — and crushed a 55-yarder 7½ minutes into that long-ago rout of the Seahawks.
As for Ficken's kickoffs, those were limited, too, but also acceptable. His first kickoff as a Jet to start the MNF game resulted in Taywan Taylor going from 4 yards deep to his 19 before being tackled; his second went 5 deep for a touchback. "I think I gave the cover team a pretty good opportunity to run down there and get him," he said.
Ficken's experience is modest but not inconsequential. He played in 11 preseason games for four different teams, missed only one placement in those games (a 56-yard field goal try for KC in '17), and had kicked in five regular- and postseason games for the Rams in '17-18, converting five of eight FG tries.
Now comes a game at New England. Has Ficken ever kicked at Gillette Stadium? He answered not as a jumpy candidate in an insecure line of work embarking on an inhospitable road trip but as a young professional ready to enter the next line on his Jets résumé:
"I have not," he said. "I'm looking forward to it."