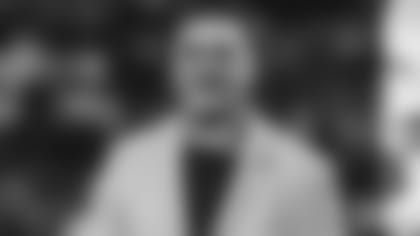 Kevin Mawae talked as always intelligently and passionately about the bittersweetness of returning to one's old stomping grounds.
"It's great to be here," said Mawae, the Jets' perennial Pro Bowl center from 1998-2005 who now is coaching on Herm Edwards' Arizona State football staff but made it back to North Jersey to be honored by his former team. "It's exciting to come back. The last time I was here, I got inducted into the Ring of Honor, and now I come back a Ring of Honor member and Hall of Fame member. There's very few of us in that elite group. So to do it on a Monday night game against the Patriots, it's a special night."
Mawae, who received his official Hall of Fame Ring of Excellence from HOF President & CEO Dave Baker at the ceremony, also enjoyed a Manhattan luncheon with members of the Jets staff plus some of his former teammates. One you would expect to be there was RB Curtis Martin, who followed Mawae's blocks for all 45 of his 100-yard rushing games and for the last seven of his 1,000-yard seasons in green and white.
Which is where some of those bittersweet thoughts came into play.
"Curtis came to the lunch so I got to see him. I spoke to him a couple of weeks after my induction," Mawae said. "It's such a blur during [induction] week, you don't get to spend time with a lot of your teammates. I'm just happy to be around him. He's a great dude, he congratulated me again, we loved on each other, asked about each other's families — what you'd expect a couple of almost-50-year-olds to do.
"But he did say this. I said, 'You look good, man, what do you think?' He said, 'I think I'd be good for 800 yards.' And I think he probably could get it, too."
Mawae didn't change his tone but his subject matter took a turn for the sentimental and even included one of the classic Patriots players who would be doing battle again with the Jets in a few hours.
"When you leave the game and you have a chance to take a breath away from the game, you think about how fast it really does go by," he said. "I played 16, I've been out of the league 10 years. I came here with a 1-year-old child and he's now 22 and my daughter's 19. So you look back and you have a bunch of fond memories.
"But when you get around your buddies, then you see the gray hair and the wrinkles. We've gotten old. ... But you look back on those memories fondly, and it's neat because I'm watching greatness in Tom Brady. And I remember when he came in as a young player, and he's carrying that torch as the oldest guy in the league. Then there's Andrew Whitworth and some other guys like that, guys we crossed paths with over our careers, at the end of mine and the beginning of theirs. To see them still doing their thing, it's pretty neat to watch."
It was pretty neat to watch Mawae in his playing prime. And getting to see the spotlight shine again on the Jets center, now a coach, who himself still looks like he could block for another Martin 100-yard effort in the Meadowlands snow or celebrate another Monday Night Miracle over Miami, never gets old.