Hello, Jets Fans! It's Kerri Ann from the Flight Crew!
I hope everyone enjoyed their holidays! I cannot believe that our season has ended already! I truly miss cheering on the sidelines for the most loyal fans. I could not have asked for a more satisfying inaugural year on the Flight Crew. The people I have met and the experiences I have endured will forever be with me. Hands down, this year has been the most memorable year of my life!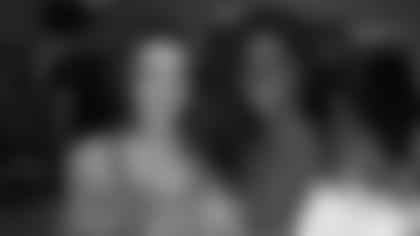 Before I give you a little sneak peek about my incredible year, there is something I need to do first. I would like to personally thank my teammates for positively altering my life in many more ways than one. These women are some of the most talented, genuine, professional and caring ladies I have had the privilege to work with.
Here is an inside look on my 2011 season: 
■ Our 2011 Flight Crew squad was the first ever to experience "Pony Tail Night." Usually for every practice we would have our hair styled down and have makeup on. However, one of our summer practices was so hot that our coach allowed us to wear our hair in a ponytail. Although this seems like a simplistic event for most, this was a milestone in Flight Crew history, which my teammates and I will never forget!
■ During the season, I formed several friendships with teammates. However, one in particular stands out to me. Rosalinda and I are very alike in several different ways. Unintentionally, we even wore the same outfits to practice. We both thought that it was so comical, so from there on out we purposely matched our outfits for practice. That was the start of a special bond, which still continuously grows to this day
■ We were given the opportunity to meet the members of the Baltimore Ravens Cheerleading Squad and attend the Jets-Ravens game. The Raven Cheerleaders invited us to Baltimore and showed us around the city. The next day we were able to watch their practice in preparation for the game that night.
■ My father is a fire captain for the Jersey City Fire Department. Many of his colleagues are Jets fans, so in return I gave them some autographed team photos. They loved it! They love it so much that they took the picture along with their Fire Department's logo and made T-shirts!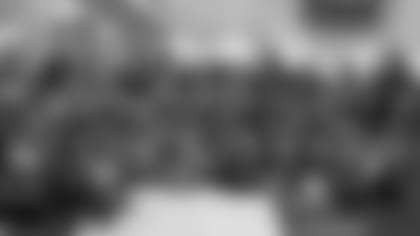 ■ At the beginning of every season, each member of the Flight Crew is given a group that you dance with on the sidelines and in the quarter dances. Group 4 was the group I belonged to. We all worked so well together and as our own unit we looked impeccable. We worked hard as a group and succeeded as a group. I am so thankful to be a part of it! 
Overall, this season changed my life and I am so fortunate for everything that has occurred. I look forward to the future and all the happiness I've had will forever leave me blessed. I've learned so much about myself and my teammates, it is remarkable. If there is one thing I have learned, it is this; Strangers turned into Teammates, Teammates turned into Friends, and Friends turned into Family.