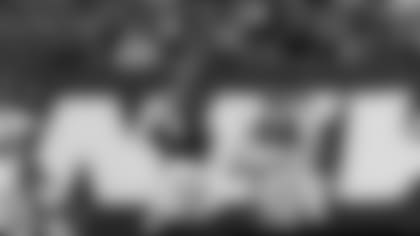 After fans and reporters and no doubt teammates made a big deal about Tyler Kroft's two-touchdown game six nights earlier, it was only fitting that Kenny Yeboah in effect said to himself, how do I top that for the tight ends room?
So Yeboah went out and topped it. He caught two TDs also, with the second one a 49-yard Hail Mary that enabled the Jets to post a 31-31 tie with Philadelphia. And he got 100 receiving yards on four catches to boot.
"Man, it was crazy," Yeboah, the Jets' undrafted rookie free agent from Ole Miss, told Eric Allen of newyorkjets.com following the draw that secured the Jets' first undefeated preseason since 2002 at 2-0-1. "I'm just very thankful I'm here with the Jets and Coach Saleh. I'm just so happy to be here."
The 6-4, 240-pounder was especially ecstatic when, as the game clock ticked ever so slowly to 0:02, 0:01, 0:00, the game was figuratively, and then literally, transferred from QB James Morgan's right hand to Yeboah's big mitts a half field away.
"Coach called the play, James came in the huddle and said, 'We're going to throw it deep and somebody's going to make the play.' We're running out there, lining up, and me and the receivers were talking, 'We've got to make this play,' " he described the unfolding of the Hail Mary, one of the few the Jets have executed in their history, either in the preseason or regular season. ""We lined up in a bunch format outside the numbers. One person's long, one person's short, one person's in the middle," It's basically a jump ball.
"I just ran down the field, looked up, the ball was coming, and I said, 'Oh, yeah, I can make this play.'"
However, coming down with the ball in the middle of a crowd of green/white and white/green uniforms with the crazy grab was only half of the job required to stave off a Jets loss since they still trailed by two points. They couldn't win the game, since there are no more overtimes in the NFL preseason, but they could still tie. So after an Eagles timeout, Morgan took the snap and this time handed off to Josh Adams, who powered up the gut, was hit and stretched for the goal line.
The initial call was touchdown but referee Bill Vinovich called for a booth review. A minute later, Vinovich confirmed that Adams scored the deuce and the Jets had their third-biggest comeback non-losses in franchise preseason history, from 24-10 down to 31-all.
"I was so happy," Yeboah said. "I made the play and Josh finished it off. I was so ecstatic."
Yeboah got his first TD on a 21-yard rope from Morgan midway through the fourth quarter. The Jets were down by 24-23 then, went for two points the first time in the game and failed. He added 17- and 13-yard receptions to the two TDs, giving him exactly 100 yards and making him the first Jets TE since Richard Caster in 1973 to rack up 100 receiving yards in a preseason game. Caster had four catches for 199 yards and two TDs at New Orleans on Sept. 1 of that year.
All of this makes tight end cuts being made by GM Joe Douglas and HC Robert Saleh over possibly the next four days even more difficult, since the Jets TEs room also has veterans who have made contributions big and small over the previous three seasons in Chris Herndon, Ryan Griffin, Daniel Brown and Trevon Wesco.
Yeboah was happy, and a little disoriented, to have made those decisions even harder for Douglas and Saleh.
"It's great because I've got a good support system from the older tight ends, Tyler and Ryan. I've learned a lot from them," he said. "And being a rookie and being able to come out there and help the team was so surreal, so surreal."
See the Top Images from Postgame at MetLife Stadium Following the Jets-Eagles Game