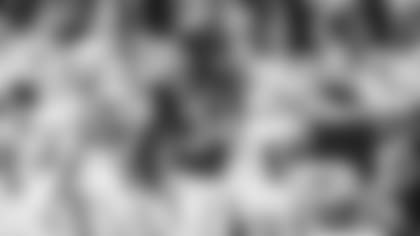 Justin Hardee was on the field for 23 special teams plays, the most of any Jet on opening day at Carolina. And his most visible contribution came on his first play in green and white.
Double-teamed as the right gunner, Hardee got shoved out of bounds by his blockers but still tore past them down the field, looped behind Panthers punt return Alex Erickson, and administered a forceful thump from the back end while Del'Shawn Phillips applied the front end collision. The result on Braden Mann's only official punt of the day before he got injured: 56-yard gross punt, 52-yard net. Sweet.
Except not up to Hardee's standards.
"Overall, we did well," Hardee said of the special teams following the loss to the Panthers. "The gunners on the outside, I felt like I've got to be way better, 10 times better. I'm disappointed in myself, but there's always room for improvement. I always hold myself to a higher standard than anyone else holds me. I feel I can give this team more, we can give this team more, especially on the special teams side. I feel like we can be a game-changer, and I feel like we failed to do that today."
Hardee is equal parts newly elected special teams captain and relentless overachiever who comes together into one get-out-of-the-way package. The fifth-year pro is a cornerback by position but a kick coverage monster by trade, with more than 90% of his game snaps with the Saints and now the Jets coming on specials.
And even though he contributed just one assisted tackle to the coverage and the Jets didn't force any special turnovers on opening day, the showing vs. the Panthers was still solid, especially in punt coverage. With kicker Matt Ammendola filling in with the last six punts after Mann injured his knee, the Jets still averaged 49.6 gross yards, sixth-best NFL average after Week 1, and 43.9 net yards per punt, ninth in the league.
"Man, that was huge for him to just step in," Hardee said of Ammendola. "I'd never seen him take punt snaps in practice. For him to go in there and do a hell of a job, I have to commend that guy. Now I have to be better at getting down faster because I feel like they shouldn't even be able to get a yard."
Hardee was also impressed with the way his new team overcame its sluggish first half to make it a one-score game down the stretch. What did the Jets show him on his first day in his new threads?
"Resiliency, the perseverance of being able to bounce back, knowing our backs were against the wall and we came out and fought," he said, adding his typical uplifting message to his team and in the process to himself: "We just have to go out and execute at a way higher level, that's all."