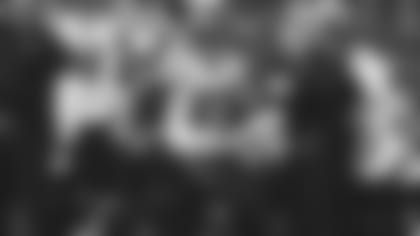 It's wild how things sometimes work out in the NFL. Take Zonovan Knight, who said this week of his so far two-game NFL career, "Just to come in and make an impact, it's definitely a blessing."
Early in his college career, the Jets' running back went through a fumbling spell and thought about leaving the North Carolina State football program.
He stuck around and assembled a solid three-year Wolfpack career. so solid that he was thinking he might be a sixth-round draft choice, maybe even a fifth-rounder.
Then the postdraft calls came in and Knight and his reps decided on the Jets providing the best scheme and fit.
On final-cutdown day, he made the Jets' roster but days later was waived and re-signed to the practice squad, and he didn't sniff the field on Sunday for the first 10 games of the season.
But Bam Knight is a religious young man and among the advice he received on his way from NCSU to the NYJ, something his mother said resonated with him.
"If I'd be honest, I started thinking it may not be this year, it may have to be next year, another opportunity. I didn't know if I was actually going to get an opportunity here,' he said. "But my mom, she was saying, 'Maybe God is saving you for a special game.
"And it's crazy how that ended up working out for Chicago and Minnesota."
With the injuries to fellow rookie Breece Hall and second-year man Michael Carter, Knight's services were suddenly needed in the Jets backfield. And he responded forcefully, as his family nickname of "Bam" might suggest.
He shot out of the gate in his pro debut, totaling 103 yards from scrimmage on 17 touches in the win over the Bears. One week later, he got his first pro start at tailback, and while the Jets couldn't overcome the Vikings, he racked 118 more scrimmage yards on 20 touches.
Now, Knight has connections with Jets fantasy players who want him on their team and with Jets legends over the years and more.
Gain 100 scrimmage yards as a rookie in his Jets debut? Knight is the second to do that and the first since Matt Snell in 1964.
Gain 100 YFS twice in a season as an undrafted Jets rookie? Bam and Clark Gaines in 1976 are the only players with two or more such games. (Gaines had seven of them, all consecutively, but the streak didn't start until his seventh pro game.)
And if he should reach three figures again Sunday at Buffalo, he'd be the 10th NFL rookie since 1970 to get a "triple triple," 100 scrimmage yards in each of his first three pro games, joining a list of notables that includes LaDainian Tomlinson and Matt Forté. And Knight would be the first undrafted rookie since '70 to do it.
There's even more trivia involving Knight and the Jets' rookie class of a league nature that we'll detail in Saturday's Inside the Numbers story.
But suffice to say that Bam knows when to roll with a lucky charm, such as sticking with his practice squad locker, one among a few groups of smaller lockers in the middle of the Jets' locker room as opposed to the "outer layer" of larger veteran lockers.
"I had a locker when I originally made the 53. Then I got cut, and when I got re-signed to the practice squad, I got back in that locker. I asked [the locker room staff] about it but after a while I just stopped asking. Everything's been going good since I've been in that locker so I'm happy to stay there."
And he was no doubt happy to hear Saleh's hot take on Knight's immediate future in green and white: "He's not going anywhere."
See the top photos from Wednesday's practice leading up to the Bills game.