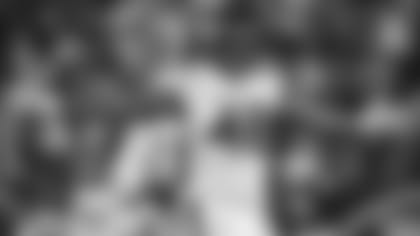 So many things came together to make the Jets' 24-22 conquering of the Cowboys from Dallas one of the more memorable recent victories.
One was that wins had been difficult to come by lately — they had 13 of their last 14 dating to almost exactly a year ago last season. The losses had gotten even tougher to take with Sam Darnold, C.J. Mosley, Jordan Jenkins and other players nursing injury or illness on the sideline.
Then there was a fairly big task back home at MetLife on Sunday: Knock off America's Team, which came in at 3-2 and on a two-game losing streak of their own and planning to make the Jets 0-5.
"That was hard work ... that was hard work," LB Jordan Jenkins told the fans with a hearty laugh after he finished his onfield interview with Jets radio analyst Marty Lyons and headed toward the Jets' locker room.
Jenkins had missed the last two games with a calf injury but he returned with authority, getting the Jets' only sack of the elusive, quick-release QB Dak Prescott and also registering two other QB hits on the day.
"No one counted us to win that game," Jenkins said at his locker of the Cowboys, who as always brought their own voluble multitude of traveling fan with them. "Everyone bet on the Cowboys. They thought we were going to come in and get blown out.
"Stuff hasn't gone our way in the past, but if we keep working, we can shut everyone up. We just have to keep putting in the work, week in and week out. We'll just do the dirty work and get the results later. We just have to keep push it."
It wasn't a pretty finish, in large part because the Jets, still without Mosley and losing MLB Neville Hewitt and DL Steve McLendon for periods of the game, knew they were going to face a fired-up Dallas group after holding them to two first-half field goals. The Cowboys were the NFL's No. 1 yardage offense coming into the weekend and they showed that with 20 first downs, 236 yards, and drives of 61, 52, 84 and 75 yards, all to the Jets 22 or closer.
But the Cowboys, despite the second-half bounce, still had to wend their way through Jenkins and the LBs, a D-line with a couple of rookies, Quinnen Williams and Kyle Phillips, seeing extended time, and a secondary led by S Jamal Adams and nickel CB Brian Poole with nine tackles each and S Marcus Maye and CB Darryl Roberts with a few big licks on Cowboys receivers.
The final lick came from Adams on the all-out blitz to prevent a tying two-point conversion with 43 seconds to play.
"It was huge," Adams said, echoing Jenkins' work-hard-finish-fast message. "That's all we practice and that's what we preach throughout the week as far as finishing. I thought we did a great job as far as communication, as far as even though they scored, we have to still play and continue to play. So we held them to that two-point conversion that they didn't get, so that's just finishing. That's just playing as one and never quitting. Whatever it takes."
Consider all that, head coach Adam Gase was asked what he thought about possibly getting Mosley's return in time for next Monday night's game at MetLife against the Patriots.
"It would be great to get him back," Gase said. "I'm all for it."