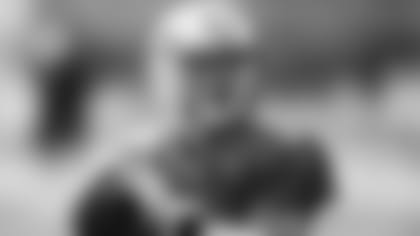 John Wolford, being a finance major at Wake Forest, had embarked on one of his career paths this summer. He took an internship at a small private equity fund in Winston-Salem, NC, and was about to begin full-time employment two weeks from now.
"But when I met with them about a part-time job," he said, "I told them, 'I could be gone any day.' "
That's because Wolford, being a Wake quarterback, was still seeking a spot along another one of his career paths. And for longer or shorter, he's got that now that he's signed with the Jets.
"I'm extremely excited," said Wolford, having traded in his three-piece suit for Jets sweats, after this morning's practice. "Right after the Belk Bowl my senior year, I've been working for this. I know my time's limited in what I can show. But I'm trying to make the most of it."
Wolford was an accomplished four-year starter at Wake with 59.7% accuracy, 8,794 passing yards, 59 passing touchdowns and 19 more rushing TDs. His last game was the aforementioned Belk Bowl, when he threw for 400 yards, four TDs and no INTs, ran for 68 yards and took home the MVP award in the Demon Deacons' 55-52 shootout win over Texas A&M.
His 6'1", 200-pound frame and 41 career interceptions may have steered teams away from him during and after the draft. But he said he'd gotten a few feelers from other NFL teams since and was even claimed by a few teams in the new Alliance of American Football — "I'm not completely sure how that process works," he said. But because he came to the Jets as a tryout in May, his best fit at this point is in the Green & White system.
"I was here for rookie minicamp so I have some familiarity with it," he said. "But we are catching up. Everyone's had the playbook for three weeks. The full playbook won't be on display on Thursday night. I've just got to get the base down and I'm starting to get it down."
Fans might read something into this acquisition but head coach Todd Bowles has said this is a down-the-road kind of transaction.
"We were thinking about practice squad," Bowles said Sunday. "We wanted to see if he can learn the system a little bit so we brought him in a week early because we had an extra spot to use. I'll see how much he learns. It would be unfair to him if he didn't know, but if he can learn a few things, he may get in the second half."
So however Bowles and coordinator Jeremy Bates work out the rotation for the Eagles game on Thursday, it's possible Wolford will get some late snaps. He could be a one-and-done, similar to some Jets fourth-game QBs of the past. Remember first-year man Todd Husak in 2003, rookie Kevin Eakin in '05, first-year man Drew Willy in '11, even vets Matt Flynn and Josh Johnson in '15? Or, like Matt Simms, another tryout QB in 2012, maybe Wolford will stick around awhile.
"I think the most important thing is I'm all out for football right now," he said. "I've got to make sure I'm getting done what I need to get done to be prepared for a shot like this. That's been my plan all along."