For Joe Klecko, the time has come again. And this time may be the charm.
We're talking about the Pro Football Hall of Fame. Klecko, our legendary defensive lineman of the late Seventies and Eighties, has been eligible for the Hall the previous 20 years. Somehow, despite the recommendations of the men who played against him and the people who wrote about him, Klecko never once reached the Modern Era finalist stage.
This year Klecko is in line to become one of the two players recommended by the Hall of Fame's Seniors Committee for induction into the Canton shrine. And it's Joe's best chance yet for immortality.
"Now I'm on the veterans side of the committee," Klecko said at Jets House in Manhattan before Super Bowl XLVIII. "I've talked to a lot of my guys, the veterans that are in the Hall, and they're upset about it, they would like to see it happen. And the biggest part of it is the team really has to get behind me."
We're behind you, Joe, and so is Jets Nation. Just as important, your guys, the veterans in the Hall, have never left your side.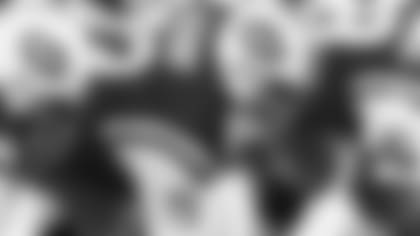 Joe DeLamielleure, the Hall of Fame offensive tackle for the Bills and Browns, remains among the most prominent proponents of getting Joe Klecko into the Hall. As "Joe D" told me this week:
"Joe was as good as anybody I played against. He was in the same league with the Steelers' Joe Greene. And he was in a league of his own as far as strength," DeLamielleure recalled with a hearty laugh. "The thing with him was he was an every-down player, and he played every down like it was his last down. There were only a few guys in the league like that."
Hall of Fame center Dwight Stephenson's career ended in 1987 after a left knee injury in a play involving Klecko and Marty Lyons, but Stephenson has never held that against No. 73, calling Klecko and Raiders DE Howie Long the two toughest NFL defenders he lined up against. And Hall of Fame tackle Anthony Muñoz said before February's Super Bowl, "I'll write a letter of recommendation to say Joe Klecko belongs in the Hall."
But the folks who matter most this year are the media members who comprise the 46-member Hall of Fame Selection Committee. Nine of those members are on the Seniors Committee and in June they will reduce this year's seniors ballot to 15 names. Then five of those nine members will convene in Canton in late August to select this year's two Seniors Committee candidates.
If Klecko, in his first year on the Seniors ballot, is one of those two, he stands an excellent shot at finally being inducted.
Joe Horrigan, vice president of communications/exhibits for the Hall, does not vote on each year's finalists, but he said recently, "Joe should be in the finalists' room at some point. He should've gotten there, and the good thing now is he's in the Seniors pool, and we'll be able to get these guys who are legitimate candidates into the room for discussion."
One of those in that room every year is Peter King of Sports Illustrated, and he'll be among members of the full committee casting votes on the Class of 2015 on Jan. 31, 2015, the day before Super Bowl XLIX in Phoenix.
"I am an ardent supporter of Joe's candidacy. He belongs in Canton," Peter told me. "Anyone who was as dominant as Klecko was, and a star player at three different positions on the defensive line, should be enshrined."
Making the Pro Bowl at those three positions (end, tackle and nose tackle), being named NFL Defensive Player of the Year in 1981, residing in the upper levels of the Jets' all-time player hierarchy — all of these are reasons Joe Klecko should have gotten stronger consideration for the Hall in the last two decades. And all of these, plus a dash of good fortune, could mean that Klecko's time has arrived.
"I'll keep my fingers crossed," Joe has said. "A little bit of luck would be nice."
Photos of New York Jets Ring of Honor Member Joe Klecko