It's not every day that you hear one of the NFL's current players offer unsolicited praise for a player from yesteryear. But that's exactly what Jets linebacker Darron Lee did recently in talking up Joe Klecko.
Lee was walking past this reporter and center Wes Johnson in the Jets' locker room as we discussed the Pro Football Hall of Fame bids being made this year by center Kevin Mawae as a Modern Era player and by Klecko, who again will be considered by the Hall's Seniors Committee in August.
"Joe Klecko? He should be in the Hall," the second-year linebacker said with the conviction of a diehard Jets fan. "It's borderline disrespectful, man."
There's no reason, of course, that Lee shouldn't be a fan of Klecko, the Jets' defensive lineman from 1977-87 who played in four Pro Bowls at three different positions. On the other hand, the players' Green & White careers are separated by three decades and they don't even play the same position.
"Every time you see those guys up there, their pictures on the wall — the New York Sack Exchange — I had no idea what that was," Lee explained of his interest in Jets history. "So I'm just the kind of guy that does my research. Klecko, Gastineau, Lyons, Salaam. Just seeing them, you've got to know who you're paying homage to, you've got to know where you're at. And at the same time, I want to pave the way for that, too."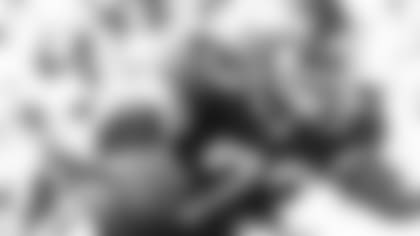 Just like Warner Wolf, No. 50 even went to the videotape to get a feel for the way No. 73 played the game.
"He was physical, so strong. He was constantly lifting," Lee said. "And he was the leader of that whole D-line. It's just crazy how you see those highlights and see just a little trickle of what they were trying to do. And I see that live on in our defense in general, the physicality that the New York Jets are about, especially on the defense.
"I know he led the league in sacks before they actually counted them as sacks," Lee added, and indeed that's true — Klecko's 20.5 sacks topped the NFL in 1981 but they "didn't count" because they came a year before sacks became official and three seasons before Mark Gastineau erupted for his 22 sacks in '84.
"For Joe, the Hall of Fame is really long overdue. What's it been, 30-plus years? That's too long. He should be in," Lee concluded. "If anybody from the committee hears this, let him in. The guy deserves it."