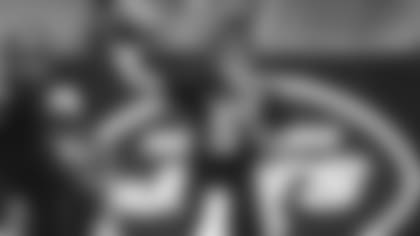 It's a little too soon in the Jets' bye week fortnight to etch in stone Sam Darnold's return at quarterback. As Head Coach Adam Gase said this week, "I'm not really sure where that'll end up, but I know he's doing everything he can to try to make himself available."
Which means Joe Flacco is facing familiar questions. Will he get another start as the Jets signal-caller at the Los Angeles Chargers on Nov. 22? Or will he fall back into his role as the veteran backup?
One thing's for sure: Flacco will continue in his role as graying mentor to Darnold as well as the rest of the Green & White.
"Listen, I've been around for a long time, and it's always good to have an outside perspective or a veteran's perspective when you're as young as he is," Flacco said of Darnold, still working to put his right shoulder injury in his rear-view mirror. "He's a young kid that has a lot of talent, that has a lot ahead of him, so he definitely has to be smart with this, make sure he makes the right decision in terms of staying patient and not feeling like he's got to be itching to get back out there.
"You always want to run your team and lead your guys, so you're dealing with that battle. But you need to listen to the people from the outside, and hopefully he listens to everybody, listens to myself, and stays as patient as he has to on this one."
If Darnold & Co. determine the 23-year-old needs to rest and rehab another game, the offense would seem to be in good hands with the 35-year-old Flacco. After two starts to shake off the rust from his offseason neck surgery, Flacco came off the bench again to play three strong quarters in the 30-27 loss to the Patriots on Monday night.
He threw three on-the-money touchdown passes, his 72% accuracy on 18-of-25 passing was the best by a Jets starter since Darnold completed 80% of his throws against Indianapolis in 2018, and Flacco's 128.7 passer rating was the best by a Jets starter with at least 20 completions since Geno Smith's "perfect" 158.3 in the 2014 season finale at Miami.
Despite that, the Jets lost their 10-point lead to start the fourth quarter and fell for the ninth time this season. And so Flacco was asked about not just Darnold but how he would counsel the entire roster about the mindset necessary to get that first win before Game 16 arrives.
"That's the NFL," Flacco said. "There is no forgiveness. Yesterday means nothing. You have to go out there and prove it every day — that's the great thing about this sport. The other great thing is, at the end of the day, they're going to look back at this, no matter what our record ends up being, and in some way feel like this situation hardened them and molded them into the players they want to become.
"In this league you have to play with confidence, and the more you lose, the harder it is to do that. The more you win, you expect to go out there and run for 200 yards and throw for 350 and score 5 touchdowns, you expect to do that. And right now, the way we're playing, we're trying to convince ourselves that's going to be the case but we really don't know."
Flacco's advice, gleaned from NFL seasons in which he won only a few games and ended the year on injured reserve, but also from his 2012 Baltimore season as a Super Bowl winner and game MVP, is tried and true.
"When you're thinking about the outcome of the game, the season, the drive, all those things, you put too much pressure on yourself," he said. "You're not capable of being aggressive within the timing of the play and therefore having a sense of making a play chance successful. So we've just got to concentrate on one thing at a time, narrow our vision to just the little things, and the outcome of everything will start taking care of itself."
That's the plan: "play with some more confidence and get some juice around us" beginning with the Chargers at SoFi Stadium in 11 days.