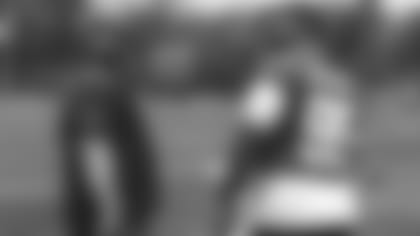 Less than a year ago, general manager Joe Douglas made a point about the plan for the Jets to be "playing meaningful games in December." At the GM's annual year-end news conference, he noted how that script got rewritten last month.
"When you get to December at 7-4, that target changes," Douglas said at One Jets Drive this afternoon. "We were fully expecting to play beyond January['s end to the regular season] and we weren't able to get that done. There are a lot of things to go over."
Topic one for many reporters is the state of Zach Wilson. Head coach Robert Saleh has supported his quarterback as they head into their third season on the Jets. Douglas said that despite Wilson's ups and downs in year two, he supports his head coach's recommendation for continuing to develop their still young signal-caller.
"I'm going to echo Robert," he said. "We've never been a team that's given up on talent early. We know the talent that Zach possesses. We're going to do what we do with every player. We're going to work with Zach and help him reach his full potential here."
Douglas recalled early in training camp how sharp Wilson and the offense played. That was before the QB suffered an August knee injury that required surgery and a short rehab before he returned to start Game 4.
"You saw a lot of positives going on with the entire team," he said. "When the injury happens in that first preseason game, that's obviously a setback. You miss a lot of valuable reps, working against two teams when Atlanta came here and we went to the Giants. ... There's just the consistency of being available, especially in that early, critical part of training camp.
"But Zach still came back, brought us back from a 10-point deficit at Pittsburgh, we went on a little run. But we just couldn't get the right consistency from our offense."
Asked if the organization could have done more to help Wilson develop, Douglas didn't disagree.
"Look, there are things we could've done better, sure," he said. "But most important from our end, we still believe in Zach. We know his makeup, we know the work ethic he brings. We're going to do everything in our power to support him."
As for the things the Jets did well from the start of camp through the finale at Miami, the general manager praised his defense, which finished the regular season No. 4 in the NFL in total yards, No. 3 in pass defense and No. 4 in scoring D. And he that answers will be found for the offense, which didn't score a touchdown over its last 180 minutes of play, and the team, which held leads for only 7 minutes, 14 seconds of the 360 minutes in those last six games.
"You can't argue the facts of not scoring touchdowns the last three games," Douglas said. "Certainly it wasn't for lack of effort. I feel these guys busted their butt every single day in practice. The defense was obviously a championship-caliber defense this year. These are things we're going to get together as a group and go over, specifically where we can get better as a team and as an offense."
One of the defense's stars was Quinnen Williams, the interior defensive lineman who enjoyed a career year with team-leading and career-high totals of 12 sacks and 28 QB hits. Williams said today he wants to remain a Jet but that he'd like to have a new contract done by the start of the Jets' offseason program. Douglas didn't flinch at that timeline.
"You can't say enough good things about the player, playing the run, rushing the passer, the type of teammate and caliber of person he is," he said. "Ultimately, Quinnen's a big part of our success this year, so we're going to get together as a group and go over our plan. We feel we have a great football admin team and we'll come up with a real good plan and move forward."
Douglas later said that plan covers all moves under the salary cap, under which the Jets "feel like we've maintained a ton of flexibility," not just those pertaining to Williams. And he wants Williams to remain in green and white.
"We all love Quinnen. He's 25 and had a fantastic season. We still think there's a lot of upside for him," he said. "So yeah, we want Quinnen here."
The performances of players like Williams, C.J. Mosley, Sauce Gardner and D.J. Reed, Garrett Wilson, the injured but rehabbing trio of young Jets offensive dynamos in Breece Hall, Alijah Vera Tucker and Mekhi Becton, and more helped lift Douglas' spirits as he conducted his season-ending sitdowns with each player on his way out the door and into the offseason.
"The last two weeks have been a little dark for me personally," he said. "But there was actually just a little bit of light today talking to our players in their exit interviews. They're obviously frustrated, but they're also very optimistic about the things that are going on here."