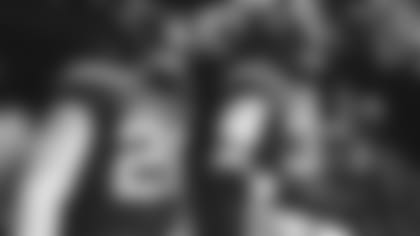 Jets General Manager Joe Douglas met the media at a season-ending press conference on Tuesday at the Atlantic Health Jets Training Center in Florham Park, NJ. Douglas addressed a number of topics, including the futures of RB Le'Veon Bell, S Jamal Adams and WR Robby Anderson.
Teams contacted Douglas about a few Jets before to October's trade deadline, but the only player moved was DL Leonard Williams to the cross-town Giants for a pair of draft picks. While both Adams and Bell are under contract, Anderson could become a free agent in March.**
Le'Veon Bell
Douglas praised Bell as an individual and teammate, but again said that he would listen to any team's inquiry on any player. Douglas said he hopes Bell to be more productive next season. Bell rushed for 789 yards in 15 games and had career-lows in yards per carry (3.2) and rushing touchdowns (3).
"My personal experience with Le'Veon has been very positive," Douglas said. "He's done everything we've asked him to do as a person, as a teammate. I touched on it last time I talked to you guys, he's one of the best workers, he's one of our best teammtaes. He connects and engaged with everybody. I can't say enough positive things about Le'Veon.
"If teams do call, I'm going to listen. How those conversations go, I can't speak to that. That's hypothetical."
Jamal Adams
Douglas said he had a great conversation with the two-time team MVP following the trade deadline and had another one on Monday. Adams, who this season was named to his second consecutive Pro Bowl, is eligible to renegotiate his rookie contract.
"As all of you know, Jamal is an amazing player," Douglas said. "We saw what he did all year, but really when we deployed him, he was such a factor as a pass rusher around the box. He did so many good things. His leadership, he was voted team MVP by his peers. He's a special guy. We're just starting our process. We're going to get in with the coaching staff. That's really the start of our entire process as far as talking about each player, each contract and what we're going to do moving forward. That's something we're going to discuss at the end of the week."
Robby Anderson
Anderson finished second on the team with 779 receiving yards and 5 TDs. His 52 receptions ranked third on the team. Anderson, like the rest of the Jets, heated up in the second half of the season. He caught 29 passes for 437 yards and 4 TDs in the final eight games.
"I can't say enough good things about Robby," Douglas said. "Obviously there was so much frustration at the beginning of the year. I'm sure Robby was as frustrated as any player being a contract year for him, but the person, the teammate he was, he perservered. He had a fantastic year, especially down the stretch. All year, he was getting open and I think Coach [Adam] Gase alluded to it a few times, we just couldn't get him the ball. Then we were able to get him the ball. We got him the ball down the stretch late. He was making contested catches. I had a great conversation with Robby. I won't get into the specifics of it, but he knows how valued he is here. We'll discuss him later as well."