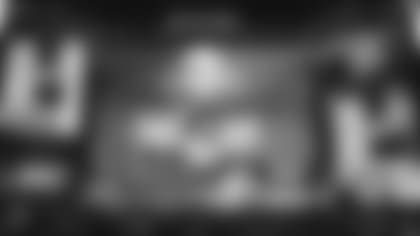 It would be only natural if Joe Douglas had one tiny discouraging word about the week ahead. After all, the Jets' general manager is still in his first year of employment and getting ready to preside over his first draft as an NFL GM ... and a pandemic happens.
But that's not the Douglas way. Even though he'll lead the first remote draft in team history since the AFL's phone-in drafts in the Sixties, taking input from his personnel team while sitting alone in his first-floor office at his home near the Atlantic Health Jets Training Center, he can't wait to attack the new lay of the land and get this draft party started.
"We've settled into our working conditions," Douglas told Jets reporters today during his predraft news conference, conducted by telephone. "Our IT department has really shined during this time and they've really put us in a position to communicate seamlessly with all our different groups. I think we've set everything up to be as close as possible to what we'd experience if we were back in Florham Park.
"We've had our meetings with the scouts and coaches. The next step for us is we'll have small-group discussions that will include ownership. We'll finalize our board in the coming days. We're going to be ready to roll Thursday. Philosophically, we're going to take the best player available, and our board's going to represent that."
Douglas, a veteran of 20 drafts before this one as a scout or personnel official with the Ravens, Bears and Eagles, wasn't about to slip up and put out some names the Jets are thinking about with their 11th overall selection. The best he would volunteer was some boilerplate observations about three positions identified by many as areas of team need:
Edge rusher: "You can't have enough edge rushers, edge presence. I think that's one of the premium positions in the league. Everybody's looking to disrupt the passing game."
Wideout: "We've done a lot of work on these wide receivers. We feel it's a good group and we feel there are other positions that are deep as well. If the right opportunity presents itself with a wide receiver when we're on the clock who can come in here and make an impact and help us either on offense or on special teams as a core teamer or returner, those are all the things we're looking at."
Tackle: "Like wide receiver, the tackle class is a good class. ... If we can find a guy that's the right fit and can upgrade the tackle spot and help us, that's going to be an interesting addition as well."
One wrinkle Douglas discussed was the positioning of the team's picks on the first two nights. While it's true that the Jets have four picks in the top 79, a bounty they've had only two other times since the "Four Aces" draft in 2000, it's also true that from No. 11 in Round 1 to No. 48 in Round 2 is a bit of gap.
"When we get together in our strategy sessions, we're going through a lot of different scenarios. Would we move up? Would we move back? It could go a number of ways," the GM said. "Right now we're focused on pick 11. But we're also putting our top 50 players together and making sure we have the best top 50 we could possibly have for Friday night."
Of all the things that could go wrong in a normal draft, we can add any number of new ways this year since the NFL has been planning for a while to take this year's draft online and virtual due to COVID-19. Douglas acknowledged the worst-case scenario but only in passing, since he was heading from his conference call to a league-conducted mock draft early this afternoon to find any gremlins hiding and waiting to create havoc.
Douglas said of the dry run's effect on real Round 1 jitters, "It's either going to allay them or create anxiety," but added, "I really feel this going to be a smooth process. So many people have worked hard to make sure this is going to be smooth, and we have backup plans in case something crazy were to happen with power or Internet. I'm looking forward to getting into the draft room and seeing how it's going to work."
As for the draft itself, Douglas knows how that's supposed to operate.
"We're trying to bring in the players that can make an impact for us," he said, "and add depth and really stabilize and fortify this roster."