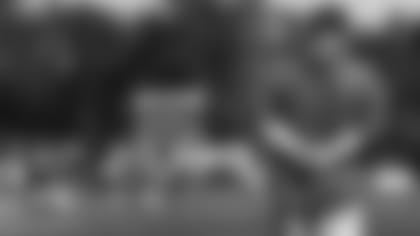 General manager Joe Douglas, in his Tuesday news conference with reporters, made it clear how he planned to direct the Jets out of their first-half hole in 2020 to better things in 2021 and 2022. And that is through the NFL Draft.
"Over the last few months, we've been able to improve our draft capital," Douglas said. "As we sit here now, currently, we have nine picks this upcoming draft, we have nine picks in the next draft. Of those picks, nine over the next two years are going to be in the top three rounds, so that gives us a lot of flexibility and a lot of opportunity moving forward to really improve the talent on this roster.
"For us to get to where we need to be, we have to continue to develop and invest in our players moving forward."
In July, following deals from last year through the April draft, the Jets made a blockbuster trade, sending S Jamal Adams to Seattle for the Seahawks' first- and third-round picks in '21 and their first-rounder in '22.
In the past two weeks, the Green & White have made a trio of deals, trading DL Steve McLendon and LBs Jordan Willis and Avery Williamson plus seventh-round picks in the next three drafts, to Tampa Bay, San Francisco and Pittsburgh respectively. In return they received one No. 5 and two No. 6's in the '22 draft.
"It was great having these guys as a part of our organization," he said of those recent trades plus the release of RB Le'Veon Bell. "They all worked hard. They were invested in the team. On behalf of the Jets, I want to thank them and I want to wish them the best with their new teams."
But their departures were key to growing that draft capital Douglas referred to. Of course, the numbers can change over the coming half-year through the '21 draft, but at the moment the Jets' 18 slots over the next two years represent the most picks in successive drafts since the 19 picks of 2013 and '14. However, that number includes four 2014 compensatory selections. For the last time the Jets had more picks without compensatories, we have to go back to the Bill Parcells rebuilding — 23 selections in 1997-98 and 20 picks in '98-99.
Here are the Jets' back-to-back drafts with the most selections since 1997:
Table inside Article

| Drafts | Yr 1-Yr 2 | Total Picks | Compensatories |
| --- | --- | --- | --- |
| 1997-98 | 11-12 | 23 | 0 |
| 1998-99 | 12-8 | 20 | 0 |
| 2004-05 | 10-8 | 18 | 4 in 2004 |
| 2005-06 | 8-10 | 18 | 1 in 2006 |
| 2013-14 | 7-12 | 19 | 4 in 2014 |
| 2014-15 | 12-6 | 18 | 4 in 2014 |
These selections are in addition to the nine choices the Jets made in Douglas' first draft at the personnel helm. And while most of those players, either in training camp or during the season, have had to rehab injuries, all are healthy enough to return to action as needed.
"I think where we are now, we have a lot of rookies that we are encouraged about, we have a lot of rookies that we think are made of the right stuff mentally, psychologically, and we're excited about those guys moving forward," Douglas said. "I'm excited about the draft class we brought in. I'm excited about the draft capital we have for the next few years."
The Jets also have the other kind of capital, the money to spend on unrestricted free agents. But the GM had a proviso on people who like to read and speculate about NFL teams' salary cap info online.
"Part of what we've done is try to put ourselves in better financial health moving forward. I think we're on our way to doing that," Douglas said. "But ultimately, I think when you look at successful organizations, no matter what the sport, you don't see a lot of teams that build long-term success by buying their way out of it. You see the teams, the organizations that have long-term success, they draft well and they develop their players.
"We have to add explosive playmakers. We have to get after the passer. We're going to have to have guys that cover well," he said. "That's what the successful teams in the National Football League are doing. We have to get better, faster. And so that's on me. We're looking at everything we can possibly do to improve all those areas."