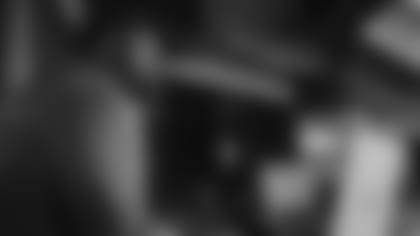 General manager Joe Douglas, after a busy in-draft and post-draft media schedule, made some more rounds today as he spoke with Jets season ticket holders via conference call, answering questions from long-time in-stadium fans on a variety of topics.
One always popular topic was quarterbacks. The question from season ticket holder Bill dealt not so much with third-year starter Sam Darnold but with the player picked in Round 4, QB James Morgan. The question gave Douglas, who presided over his first draft with the Jets and as an NFL GM, the opportunity to dwell on what attracted him and the Jets personnel team to the Florida International signal-caller.
"That was an exciting moment for us in the draft," Douglas said, talking about setting up the Jets' third day of drafting by acquiring three draft choices from New England in exchange for the Jets' No. 1 pick at the end of Round 3. "With us making the trade and acquiring the extra fourth-round picks, we felt really good about where we were starting day three of the draft.
"We felt this was the right opportunity to bring in a young quarterback, who actually is a couple of months older than Sam, but a young quarterback that can come in and develop with Sam, who's the right type of leader, the right type of football intelligence, the right amount of ability, which all of our scouts were able to see at the East-West [Shrine] game and all throughout the scouting process.
Douglas repeated his mantra of QB being the most important position not just in football but "in all of professional sports." When Morgan was on the board at No. 125, the GM said, "We felt good about pulling the trigger at that point."
Then late in the Q&A session, fellow STH Ken followed up with the Jets' situation last year, when Darnold went down for three early games with mono and the team's backups couldn't help engineer any victories. Are the Jets seeking one of the veteran QBs still on the market to come in and help with the offensive operation in the season ahead?
Douglas wasn't naming any names but agreed that his team continue to discuss and monitor veteran QBs.
"There's been a lot of discussion on a lot of veterans at different position groups and there've been discussions with veteran options at quarterback as well," he said. "If the right opportunity presents itself, we will address it moving forward.
"That being said, if the opportunity doesn't present itself, we feel good about the upside of a guy like James and then the two guys we had before the draft, David Fales and Mike White. Those guys are going to compete. They were great last year in the quarterbacks room, and we're excited about what they bring to the quarterbacks room this year and the competition they're going to provide."