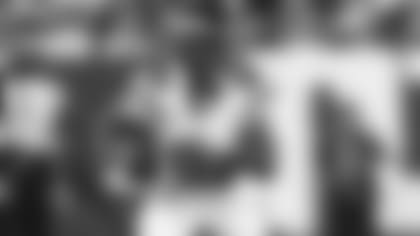 A little less than a month ago, UDFA Xavier Gipson thought he fumbled away his chance to make the Jets 53-man roster when he muffed first punt return opportunity against the Cleveland Browns. But as September nears, Gipson has secured an initial spot on the Jets 53-man roster.
"It meant everything to me. It was all I ever wanted as a kid," Gipson said. "I have been working hard my whole life to try to get to this moment and it finally came. But still, I haven't really been able to show what I can do. I have shown flashes."
In the Jets first preseason game Gipson tightened up. Under the lights in the Pro Football Hall of Fame game, Gibson tried to field the first punt of the game and let the ball deflect off his hands out of bounds at the Jets' 5-yard-line.
Ahead of Tuesday's cutdown, Gibson said he was confident he would make the roster. But on the sideline after the miscue against Cleveland, he thought he was on the way out after the Hall of Fame Game on Aug. 3.
"After it happened, I was hot. I am not going to lie, I was mad," Gipson said. "I saw how much space I had, got excited and I dropped it. And after, I thought I really thought I blew it. I actually thought I could get cut."
Gipson bounced back with a 46-yard kickoff return late in the second quarter and took off from there. He garnered attention in the return game and gradually improved as a receiver.
"After my first punt return against the Browns, I just had to tell myself to loosen up," Gipson said. "I had to tell myself that I got it. My coaches and my team do a great job preparing us for moments like that."
In three seasons at Stephen F. Austin, Gipson returned 3 punts for touchdowns in 17 attempts and last year averaged 31 yards per return over 8 attempts. Over the Jets' four preseason games, Gipson returned 5 punts for an average of 13.4 yards including two returns of over 25 yards.
"X [Gipson] has shown dynamic abilities in the return game," head coach Robert Saleh said. "He is a really good football player, and he has got a great feel for space in the passing game. He still has a long way to go, and he is going to get better. "
Throughout training camp, Gipson leaned on Randall Cobb for his guidance. The veteran wideout taught Gipson how to handle pressure and balance being a returner and receiver. Gipson was held without a catch on 3 targets in the first two preseason games but went on to total 9 receptions for 97 yards over the final two games.
"I saw him as someone who was gifted and overlooked the moment, I got here in OTAs," Cobb said. "He had a natural ability to run routes and I just saw him as someone I could help. I just tried to reach out to him and do everything that I could, and he did the rest."
After Gipson received the roster news on Monday, he called his mother and she celebrated accordingly.
"She started screaming," Gipson said. "She was getting an oil change when it happened. She was screaming and said everyone there was looking at her crazy. But she deserved this too. She was a firm believer."
Heading towards Week 1, Gibson still has work to do to earn the starting return job. Saleh said Wednesday that Mecole Hardman would still have "something to say" in the competition. But you can be sure, Gipson will give it his all.
"I'm an undrafted free agent and not many of us get to make a 53-man roster," Gipson said. "I just went in blind man and gave my best shot. So I am, going to continue to do that."
See the current Jets roster in photos leading up to the 2023 season.