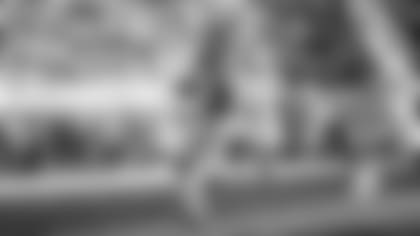 The Jets young pass catchers are heating up down the stretch as wide receiver Robby Anderson and tight end Chris Herndon combined for 15 catches, 222 yards and two touchdowns in the Jets' 44-38 overtime loss to the Packers.
Anderson led all receivers with 140 yards and one touchdown on a career-high nine receptions. Over the last three games, the third-year receiver's chemistry with quarterback Sam Darnold has accelerated. From Weeks 1-13, Anderson totaled 416 yards and three touchdowns on 27 receptions compared to his Week 14-16 hot streak in which he's accounted for 312 yards and three scores on 20 catches. Sunday's game marked the Temple product's 12th game with at least 100 receiving yards and his third consecutive game with a score.
"It's going to take time, but I think we're taking steps in the right direction," Anderson said regarding his chemistry with Darnold. "He's doing a hell of a job. He's playing to the best of his abilities."
Herndon, the team's fourth-round pick in April, hauled in six receptions for 82 yards and one touchdown, and leapfrogged wideout Quincy Enunwa as the Green & White's second leading pass catcher with 494 yards. The Miami product's 38 receptions are tied for second most on the team this season and lead all NFL rookie tight ends. Additionally, Herndon is 4 yards shy of Ravens TE Mark Andrews for the rookie lead in receiving yards for the position.
"Chris has been amazing throughout the year," Darnold said. "He's been progressing really well. It's really cool to see. Just his attitude every single week – it doesn't change no matter how much success he has. He comes in and works really hard every single day and everyone appreciates that."
With Herndon's 5-yard score in the third quarter that put the Jets up 28-20, he established a new franchise record for rookie tight ends with four touchdowns and trails Dustin Keller's receiving yards mark by 41.
"I'm happy with just being as consistent as I can be, not really allowing myself to hit that rookie wall like a lot of people say," he said. "I'm trying my hardest to keep up with my body and studying, following the older guys. That's what I'm most proud of."
Herndon played an instrumental role in setting up kicker Jason Myers' game-tying 33-yard field goal. The rookie accounted for 23 yards on back-to-back plays and set the offense up on the Packers' 15. Unfortunately, the offense never had an opportunity to take the field in overtime as Packers quarterback Aaron Rodgers hit wide receiver Davante Adams for a 16-yard game-winning touchdown on their opening possession.
"It's frustrating," Anderson said. "Any loss is frustrating." He later added, "We lost the game. That's all that needs to be said. It's disappointing."