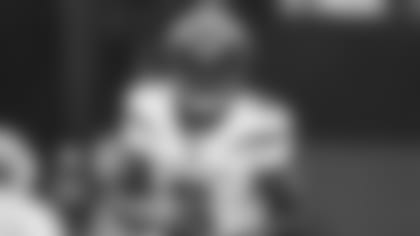 As the Jets offense has worked its way through the early part of the season, trying to find the right combinations of wide receivers, tight ends, running backs and offensive linemen that will work best for each opponent, one player has been conspicuous by his absence from the outside conversations.
But Mecole Hardman Jr. says that although his lack of involvement in the Jets' first five games has been "hard sometimes mentally," it's nothing that he can't come to grips with as he attempts to get on the field and play the game he loves.
"Obviously, I want to go out there and contribute and help my team win," Hardman said following Wednesday's practice ahead of Sunday's home game against Philadelphia. "As of now the coaches just maybe see better options, or they just haven't called my number yet."
Hardman came to the Jets as an unrestricted free agent in March after four productive seasons working with Patrick Mahomes in the Chiefs offense and returning a fair amount of punts and kickoffs in his four Kansas City seasons.
With the Jets, he was in for 22 offensive plays and two snaps on special teams in the first four games before being deactivated at Denver. His only offensive numbers: one fourth-quarter reception for 6 yards at Dallas.
Hardman's situation has led to media reports that the Jets could be looking to trade him. He said he just heard those rumors himself in the past few days.
"I just want to play, get on the field. Whether it's here or somewhere else, it's not up to me," he said, adding of whether he'd welcome a trade, "It depends. If it works out for both sides, I guess, I don't know. I've never been part of this so I don't know."
Head coach Robert Saleh said first-year WR Irvin Charles' elevation from the practice squad while Hardman was deactivated was not a slight toward the veteran.
"Irv made this team initially because of his special teams ability," Saleh said, "and it's just a matter of trying to get him up, especially as a gunner. When we lost [Brandin] Echols, we really, really needed a gunner opposite [Justin] Hardee."
Saleh said it's been a numbers game each time he and his staff had plans to factor Hardman into the offense.
"You would love to find ways to utilize his speed," the coach said, "but at the same time, there are a lot of guys we're trying to get on the field. We've got a cool group of skill guys, and whether we want to get all three of our tight ends on the field, or get two backs on the field, or get all the receivers on the field, some of those opportunities just haven't presented themselves. We tried to get him out there early against New England, but it didn't go the way we wanted to, and the game kind of goes in a different direction."
Hardman seems willing to bide his time as he waits for his number to be called.
"It's hard sometimes mentally, but it's nothing I can't handle," he said. "As long as you have that positive mindset and keep coming in and keep working, something will come of it."