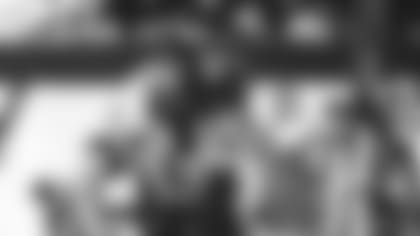 "Honestly, whatever, wherever. Truly."
That's Braxton Berrios' terse, adverb-rich personal mission statement. And in his third season as a Jet and his fourth in the NFL, Berrios' pithy plan is paying dividends.
"I want to help this team win. That's all I really care about at the end of the day," Berrios told reporters following Wednesday's practice at the Atlantic Health Jets Training Center. "If they need me to go out and play DB, I'll do that. Whatever they want me to do that puts us in the best position to win, I'm game for."
Berrios did his usual whatever in the Jets' last game against the Eagles, and that at least got them moving in the right direction. His 79-yard return with the opening kickoff set up Zach Wilson for a 21-yard drive to his first opening-drive touchdown as a pro and a 6-0 lead.
The Jets took two more leads into the second quarter but couldn't hold it and fell to the Birds, 33-18. Yet Berrios, springboarding off that return, added two more decent-sized returns and an 11-yard reception on the game's last play to put together exactly 150 all-purpose yards, his second 150 game this season.
Berrios, a wide receiver by scrimmage position, has always been a "whatever, wherever" kind of guy, dating to his high school days in North Carolina.
"I can't say I really had an idol receiver," he mused. "Then again, when I was growing up, I was playing quarterback and everything else under the sun. The last few years, I've focused on taking pieces from everybody."
That's how the U. of Miami business school valedictorian can say his two idols in college were WR/KR Devin Hester and LB Ray Lewis, or that he models the receiver part of his game off of players like Julio Jones, although he said, "We are absolutely nothing alike. ... But there's parts of everybody that you can learn from in a general sense, in a life sense and obviously in a football sense."
Berrios also politely disagreed with the premise that he see himself, at 5-9 and 190 pounds, as an NFL underdog. "I wouldn't say that at all," he replied. "I want to take advantage of every opportunity I get. That's where my focus is. Whether I'm the favorite or the underdog doesn't really matter when the ball's in the air."
On top of his offense contributions, Berrios has become one of the NFL's top returners, of both kickoffs — he's No. 1 in the NFL this week averaging 28.9 yards/return — and punts — his 13.6-yard average on nine returns would peg him No. 2 in the league if he had enough returns to qualify.
The whole BB package has moved him into the neighborhood of being voted into his first Pro Bowl later this month.
"That's one of the great honors individually," he said. "If that happens, it's awesome. But I relish the fact that I was able to bring up my team around me for most of the season."
But before the Pro Bowl comes Game 13 for the Jets, at MetLife Stadium against New Orleans on Sunday. And the "competitive switch that doesn't go off" had Berrios in full whatever-wherever mode when a reporter asked him if he knew there have been no punt return TDs in the NFL this season, the latest ever that no one in the league has taken a punt to the house.
"Yes, I'm aware of that," he said. "I'm looking to change that this week, though. I'll do my best."
More on Berrios' positions atop the NFL's returners lists in my newyorkjets.com Inside the Numbers piece on Saturday.
See the Top Practice Images from Wednesday of Saints Week at 1 Jets Drive