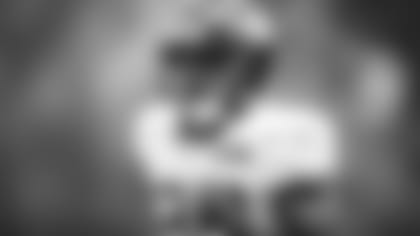 Interesting that the next phase of Jamison Crowder's career comes two years on the NFL calendar after he first entered Jets fans' collective consciousness.
Aug. 8, 2019, Jets at Giants, MetLife Stadium. Crowder, signed as an unrestricted free agent from Washington five months earlier, is a key factor in the game-opening drive of this preseason-opening game. He had a 28-yard catch-and-run from Sam Darnold to the Giants 11, then a short toss that he took at the 1 and spun inside the right pylon for the first score of the night.
But as momentarily exciting as that Jets debut might have been, Crowder was already a seasoned pro. And two years later, he's not as worried about Saturday night's 2021 preseason debut at the Giants as he is with the Jets' wideout group, vastly reworked from that 2019 unveiling.
"We've been doing really well. Some days better than others, but overall it's been good," Crowder said after one of this week's hot training camp practices. "I think the challenge is detailing it up, just being in on the details — route depths, landmarks. I think that's the challenge for all of the guys. Also in the run game, make sure we're fitting up on our blocking assignments, be it safeties or corners. We'll get better at it as we keep going."
Crowder also has upbeat words for his new quarterback, rookie Zach Wilson — "He's very talented. I think he'll be fine" — and second-year WR Denzel Mims, who started this offseason slow but has been picking up speed in practice this week — "That's what it'll take, him making plays and getting his confidence up and he'll be fine."
If it sounds like everything's fine with Crowder, why not? He's now entering his seventh NFL season, with 84 games, 47 starts, 540 targets and 358 receptions for 4,160 yards. His 13 touchdowns responsible for the past two Jets seasons (12 catches plus his TD pass to Braxton Berrios vs. Cleveland last year) don't sound like a lot, but they compute to 16.5 offensive opportunities (targets + rushes + passes) per TD, No. 10 among the 30 wideouts with at least 200 such opportunities.
With his production and leadership, Crowder was unlikely to be departing these new-look Jets even with the additions of No. 1 WR candidate Corey Davis and potentially electric rookie Elijah Moore. Head coach Robert Saleh gave an idea why Crowder wasn't going anywhere when asked about the Davis package.
"And you can put Jamison in that mix," Saleh said. "Having that veteran presence who understands coverage, route-running, how to attack leverage, how to create separation. Then on top of it, to be able to speak through experience and talk to the other receivers and bring them along — they're priceless, especially when they're as talented as those two are."
Crowder, as usual, doesn't talk about his own game unless he's asked. Otherwise, he'd much prefer to woof about the improved "kennel" at his position as the season beckons.
"We have some dogs in the room this year, for sure," he said. "Guys can make plays at any time. I'm excited to see everybody get better, see everybody jell. And see what happens in the first preseason game and as we get closer to the regular season, how much better we can get."