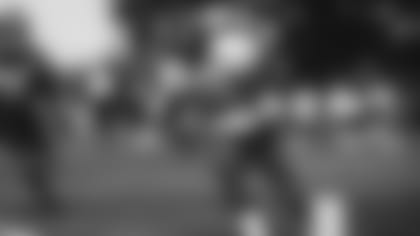 The Jets' offense was put to the test — starting with the receiving corps -- in the team's first scrimmage of training camp on Wednesday.
"There are some things we need to clean up," said WR Jamison Crowder about the unit's performance. "The defense did really well today, but offensively we had too many self-inflicted wounds. It's one of those things where you have to learn from it and keep pushing."
Along with several penalties against the offense flagged by the officiating crew, veterans Crowder and Chris Hogan each fumbled, turning over the ball to the defense. Despite setbacks, however, a recent raft of injuries to the wide receivers provided opportunities for the Jets' young receivers who are hoping to make an impression.
"Over the course of the last few days, I feel like as receivers we've been making plays," Crowder said. "Today was a little rough, but like I said you're going to have those days. But our guys have been doing what they need to do in the run game and the pass game. So, when guys go down, there's always an opportunity for other guys to step up and get noticed, so they've been doing well and taking advantage of the opportunity."
There were a few noticeable highlights for the offense, led by rookie RB La'Mical Perine, who received a handful of first-team reps. Over the course of the scrimmage, the 5-11, 216-pound Perine had multiple 20-plus-yard rushes. On Tuesday, Crowder connected with QB Sam Darnold a TD in crunch time, followed by WR Braxton Berrios with an impressive grab to close practice.
"We had some really good runs and Perine had some good runs," said Crowder. "Berrios made some big plays and I made a few plays when I got my opportunities. There are always some positives to take. It's one of those days where you have to learn from it and keep going. You're going to have some good days and some bad days, good plays and bad plays, but you have to keep going."
As the start of the regular season nears (at Buffalo on Sept. 13), despite all the injuries to wide receivers, Crowder is confident the entire unit will rebound.
"I think it's something we can improve, but I feel like guys are tuned in more because the main core guys are more comfortable in the offense this year," said Crowder. "We kind of know what to expect depending on what situation we're in and what plays need to be called. We have a better feel for it. It's something that the team can continue to improve on, but I think the guys are comfortable in it knowing whatever situation we're in, we've got our heads up on what to expect."