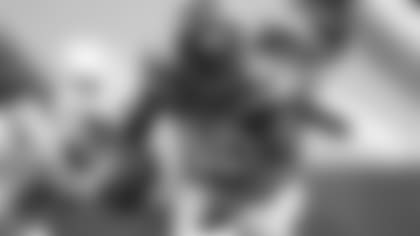 Sunday's AFC East matchup against the Bills didn't offer many offensive highlights for the Jets. The offense struggled to get into a rhythm and display the chemistry the players had been perfecting in training camp. Despite the 27-17 loss at Buffalo, however, WR Jamison Crowder provided a glimpse of the possibilities on his 69-yard catch-and-run for a TD.
"That was a huge play," Crowder said of the third-quarter score. "We have to have plays like that early. I had a huge drop on one of those drives that definitely hurt us, but you keep playing. We got the right look that we wanted from Buffalo. We made the adjustment and I was able to break a couple of tackles. The guys on the perimeter did a good job of blocking their guys and I was able to take it to the house."
Crowder's TD reception — the second-longest reception of his career (79 yards in 2018) — was the Jets' first TD of the day and got the visitors back into the game after K Sam Ficken hit on a 31-yard FG late in the second quarter.
The Green & White struggled early to score and was trailing by 21-3 at the half, which meant the team was playing catch up the entire second half. Penalties also had a huge impact, with the Jets seeing 9 flags for 95 yards.
"We just have to play better complementary football and clean up the penalties," Crowder said. "Those are things that we can control. We control the jumping offsides, the holdings, the false starts, whatever they may be. We have to eliminate those. We have to go back and make sure we execute. Make sure I catch the football. I'm not concerned with that. I know I'm going to make plays. That's one of the things that I feel like I need to clean up. We just have to lock in and play sound fundamental football."
Crowder, a six-year veteran, finished with 7 receptions for 115 yards and the TD. He accounted for more than half of the team's 215 receiving yards. The offense's struggles ran much deeper, though. With only 15 first downs and 36% third-down efficiency, the offense was unable to consistently produce. Looking ahead, Crowder (5-9, 177) knows what the team needs to fix for Week 2.
"We had to get into that rhythm," Crowder said. "I feel like guys were trying to press too hard and we just couldn't get into that rhythm. We have to change that going forward. We have to come out early and bring the energy and get some plays going, stay ahead of the sticks and get first downs."