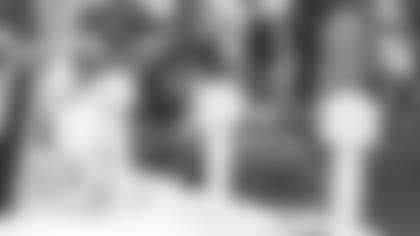 Second-year wide receiver Garrett Wilson, last season's NFL Offensive Rookie of the Year, looked cool, calm and collected in his Jets Gotham Green bucket hat as he spoke with CBS TV sideline reporter Otis Livingston. Wilson, like some of his counterparts on offense -- QB Aaron Rodgers, OL Alijah Vera-Tucker and WR Randall Cobb -- was a spectator for his second straight preseason game as the Jets faced the Carolina Panthers in 92-degree heat (at game time) at Bank of America Stadium in Charlotte, NC.
Wilson, in his chat on the sideline, acknowledged the buzz around the Jets since Rodgers joined the team from Green Bay. And Wilson, coming off a season in which he had 83 receptions for 1,103 yards and 4 TDs playing with four different quarterbacks, has displayed excellent chemistry with Rodgers since the spring.
"There's definitely a buzz around the team," said Wilson, who returned to practice on Thursday after an ankle injury. "To get someone like that [Rodgers] legendary player and person, he's great. He has an aura, and everyone feeds off it. It's about learning the nuances of it. He is working with us and we're getting better every day."
As a willowy rookie out of Ohio State, the reed-like Wilson played in all 17 games and had an impressive 13.3 yards per catch. On Saturday, he said his offseason was all about bulking up and preparing for his second NFL season.
"Overall, it was all about my body," Wilson said. "The main part is something that a young guy wants to improve on. For me, it's how to deal with a grueling 17-18 week season."
As he prepares for the season opener against the visiting Buffalo Bills on Monday night Sept. 11, Wilson said that playing against CB Sauce Gardner in practice is "constant competition" against last season's NFL Defensive Rookie of the Year.
"We both love what we're doing," he said. "It's something we don't have to think about, we get to talk about it after we see what we're doing. It's awesome to be with Sauce, just keep going in camp. It's awesome."