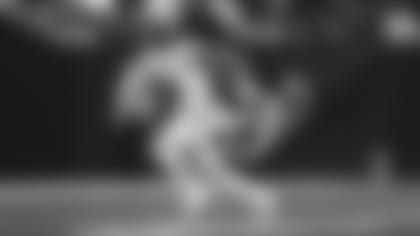 Elijah Moore is about more than catches and rushes and yards and touchdowns, although all those are important in his emergence as a dynamic Jets rookie receiver. As he explained, one such relationship in his young life is the one he built with A.J. Brown when both were standout wideouts at Ole Miss and now are young guns in the NFL..
"I found a brother, man," Moore told Eric Allen and Leger Douzable on this week's Official Jets Podcast. "Definitely someone who, when I got there, connected on a different level as far as mentality, as far as want-to. I know that kid's dreams, I know everything he wants to accomplish. It's kind of like the Kobe and LeBron stuff that has definitely impacted us to think very similarly.
"I know what kind of man he wants to be, God-fearing, so it's just motivation, someone older than me who goes through things that I can learn from and I go through things that he can learn from. It's definitely a blessing."
But as close as Moore and Brown are after hours, their professional paths parted ways when they were both second-round picks in April's draft, Moore going 34th overall to the Jets and Brown 51st to the Titans. Yet that set up another set of relationships for Moore with the Green & White draft class that he found himself in the middle of. And that, too, is a blessing.
"The thing I love most is that the offense is totally connected with the defense," he said. "We all try to chill and hang out. It's all about brotherhood. We're going to be here so we might as well get close. I love that we all opened up and nobody's just all stuck up and stuff like that."
And the reason those relationships are important, to Moore and to the entire Jets team and organization, is because of what the 2021 draft class means not only in the weeks but the years ahead.
"We look at it as we want to change it," he said of the Jets' recent history. "We want to be the difference makers. Everybody has a draft class that comes in and either they pan out or they don't. We're definitely trying to be the ones that pan out."
Moore has been doing his part. Coming back slow and steady from his training camp quad injury and then a concussion from the Denver game, he started putting his numbers on the board — his first pro touchdown, on an end-around at New England, then six catches in the win over Cincinnati, seven grabs and his first two receiving TDs at Indianapolis, another TD vs. Buffalo, and his signature game to date, eight catches for 141 yards and a score vs. Miami.
Yet while he's pleased to have 37 receptions and a team-leading five touchdowns, he's concerned about more than his statistics. He's always thinking about relationships, those he's already established and those yet to rise up. Relationships with Jets fans, whom he has an affinity for, and with those fans from back in "the hood" around Fort Lauderdale and Miami where he grew up who haven't started their careers yet.
"I was thinking about it a lot before the Dolphins," he said. "I woke up and it was on my mind heavy that there's a lot of kids that would love to be in my position, that look at me and are like, 'Man, he's really there doing it.'
"I want to make the most of it. I don't just want to have great games. I want those great games to show the wins, to show that my positive thinking and positive movement can impact others to where we can win. Not just where I could ball — I feel like I'm always going to do that. But I really just want to win. That's the ultimate goal for everybody. More smiles, more questions ... more everything."