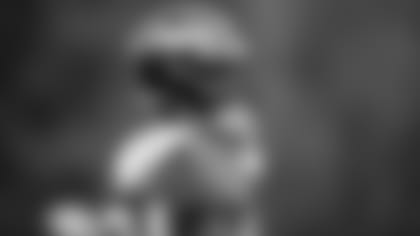 Corey Davis' fourth touchdown catch of the season was one of the shortest TD grabs of year for the Jets and perhaps the prettiest.
Davis, curling to the left corner of the Gillette Stadium end zone, had to leave his feet, reach back across his body, fully extend his arms, secure the ball, then hold onto it and stay inbounds as he landed hard.
"He was comfortable enough to throw me that ball," Davis said after Wednesday's practice. "It was a great ball and we made a play on it. He did a great job for us filling in."
The "he" who gets equal billing in Davis' description of the second-quarter score was of course QB Mike White. And White, who entered the game a few players earlier for the injured Zach Wilson, deserves kudos for the 3-yard rollout toss, seeing that it was his first completion as well as his first TD as an NFL quarterback.
But it wasn't the only White-to-Davis hookup in the game — he had three more catches after the TD for 44 more yards against the Patriots. And those weren't the duo's only connections of 2021.
"I get reps with him every now and then when Zach is on the other side throwing to the other receivers or whatever. I get enough reps with Mike," Davis said. "He's poised, he's a vet, so he's kind of been through a lot of the things before. That was the presence that was needed at that time. He came in and he did a great job."
Davis noted that his new QB led a "great day for the offense" in the just-concluded practice. And after head coach Robert Saleh disclosed that White will get the start in Sunday's return to MetLife to take on the hot Bengals, Davis said the symbiotic relationship between White and the wideouts has to continue for the Jets to begin the climb out of their 1-5 hole.
"No question, there's times where we've got to pick him up and make plays for him and then there's times when he does it for us," he said. "That's all part of the game — it's the ultimate team sport. We understand that. We're not going to press, we're definitely going to do more and try to handle business."
Davis has been doing his best to handle business with Wilson and now White. He's at the head of virtually every column among the Green & White receivers, leading in targets (42), catches (24), 20-yards-plus "explosive" plays (7), receiving yards (349), TDs, receiving and total (4), and receiving first downs (16). He's on pace (with the help of this season's 17th game) to be in the neighborhood of the first 1,000-yard season of his five-year pro career.
CD can't redirect the Jets' season himself. But with his and his teammates' unrelenting focus and hard work, whichever QB is dishing the pigskins, he expresses certainty that the culture change that Saleh and the players seek will be achieved.
"It's not going to flip overnight. It's going to be a process," he said. "And Saleh's always saying that this is part of the foundation being laid. It's going to be an uphill battle, and it's going to be ugly at times. But we've got the right people to flip this thing. I truly believe that."
See the Best Photos from Wednesday's Practice Leading Up to the Home Game Against the Bengals