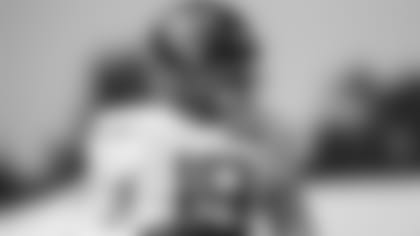 A lot of times there's more wishful thinking than cause-and-effect in talking about the momentum from the end of one season carrying over into the next season.
A lot of times. And yet in Breshad Perriman's case, maybe the Jets wide receiver has some big-time carryover.
After ending the 2019 season as one of the NFL's hottest wideouts, Perriman picked up where he left off some seven months ago with the biggest play of the Green & White's early training camp practices, gathering in a half-the-field laser from Sam Darnold against S Bradley McDougald and busted CB coverage for a "touchdown" this morning.
"I had a corner route," Perriman said after the second practice of camp. "I was the No. 2 receiver and I saw there was single high coverage, so I automatically knew this ball could be coming up. And Sam dropped a dime in there and I was able to catch it."
That bomb was a bit of balm for the Jets' suddenly achy WR group. And Perriman acknowledged that his 2019 finish is a little part of his thinking for his anticipated start to 2020.
"I'm just going out there and trying to play my game, play to the best of my God-given ability. As far as the momentum thing, I'm definitely taking that with a headful of steam, trying to build off that and not really have any slow starts. Just take that little stretch, that run at the end of last season and keep going with it."
How "crazy" (one of Perriman's go-to adjectives) was his finish with the Bucs? Let us reflect again. Baltimore's former first-round pick in 2016 averaged 1.5 catches, 22.9 yards and 0.1 touchdowns per game in the first 46 games of his career. In those last five games last year, he averaged 5.0 catches, 101.2 yards and 1.0 TDs/game, with the last three games all 100-yards-plus efforts. Extend his streak to two more games earlier and he had 15 catches of 20-plus yards and seven grabs of 30-plus over his last seven games.
One of my favorite BP factoids: Perriman's 20.2 yards/catch over those last five games were tied for the best average by any NFL wide receiver with at least 25 catches in any five-game span in the past three seasons.
Perriman said he's "definitely excited and just thankful" to be a Jet now. And while he acknowledged the possibility of momentum at play in his personal game, he didn't want to rule out a leap in his game to the levels he and others expected of him back when he was the Ravens' 26th overall pick in the 2015 draft.
"I'm not really setting my mind, my focus on that," he said of if it was important for him to build off of that storied finish. "It was a great run, but now I'm trying to take it to a whole 'nother level. I'm just trying to go out there, work hard and put this thing all together. I'm not really trying to prove to anybody that last season wasn't what it was. I'm just trying to do my job to the best of my ability, put the work in, and everything will work out how it's supposed to."
See the Best Photos from Sunday's Indoor Practice at Jets Training Camp