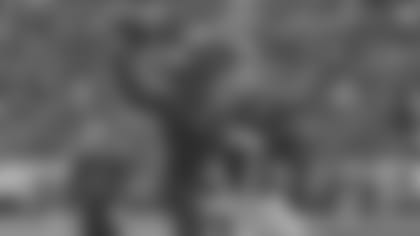 Jets fans may still be in the cautiously optimistic camp regarding the signing of wideout Breshad Perriman. Yeah, he finished last season very strong with Tampa Bay. But what about his first three seasons in the NFL, with Baltimore and Cleveland?
Perriman says don't worry, be happy about his recent play ... and what's ahead with the Jets.
"I know great things are basically coming for this season and for many years after this. I'm just excited, man, to get to work, and I know this is really just the beginning. Last year was just a glimpse, a sneak peak. I feel like this year's definitely going to be a season to remember, not me individually but I feel like as a team."
Perriman's words are uplifting for Jets fans, who lost Robby Anderson to free agency and have yet to tap into the deep WR class in the draft that kicks off Thursday. There still could be some hesitation about Breshad's body of work, considering his best season, last year, still produced 36 catches for 645 yards and six touchdowns.
But the more we look into it, Perriman's recent play continues to beguile. Maybe he's onto something. Maybe he's found that groove. One thing's for sure — his hot play extends back before last year with the Buccaneers to the final four games as a Brown in '18.
In his last 20 games as a pro, BP has 44 receptions. Again, a modest number. But 19 of those catches went for 20-plus yards, 43%. And 10 of them went for 30-plus, 23%. Both rates were the best in that span for all WRs with at least 30 receptions. It speaks of explosive potential.
Then if we take Perriman's 2019 alone, he had a 41.7% rate on 20-plus passes (15 of 36). That's the top rate by a wideout in a season (32-plus catches) since 2011 and in the top three among almost 1,000 wideout seasons since 2010. Here are the top three, plus some other big-play seasons for Perriman and Anderson:
Table inside Article

| WR | Team | Yr | Recs | 20+ | 20+ % |
| --- | --- | --- | --- | --- | --- |
| 1, DeSean Jackson | PHI | 2010 | 47 | 21 | 44.7 |
| 2. Mike Wallace | PIT | 2010 | 60 | 26 | 43.3 |
| 3. Breshad Perriman | TB | 2019 | 36 | 15 | 41.7 |
| t-118. Robby Anderson | NYJ | 2017 | 63 | 17 | 27.0 |
| t-168. Robby Anderson | NYJ | 2019 | 52 | 13 | 25.0 |
| t-201. Breshad Perriman | BAL | 2016 | 33 | 8 | 24.2 |
Perriman also is happy to be working again with Joe Douglas, now the Jets GM, and Chad Alexander, their director of player personnel, who were both Baltimore scouts when Breshad was taken in the first round (26th overall) in 2015 by the Ravens.
"It means a lot, kind of like a homecoming," he said of the double reunion. "I can't wait to get back to work with those guys, and I'm glad to be in an organization with them."
But what's really exciting for Perriman is getting to work in head coach Adam Gase's offense and to catch balls from now third-year QB Sam Darnold.
"Oh, yeah, Sam definitely lights up, man. I'm really excited. I'm always watching video, watching all the great throws he makes, and I'm just extremely excited," he said. "I know he's a great player. You know that before even coming to this team. Just his ability where he puts the ball in places where only you can make the play and his ability to get out of the pocket, just like crazy."
Then Perriman summed it all up for now with a sentiment familiar to LB Bart Scott and one that all the Jets and their fans are feeling these days: