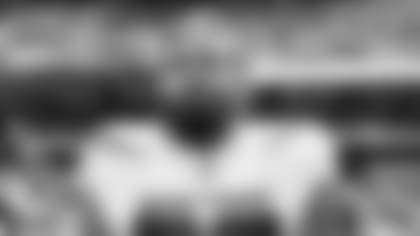 Jets tight end Tyler Conklin is no stranger to the Upper Midwest, having grown up in Michigan, playing in college at Central Michigan and having played for the Vikings for four seasons. He signed with the Jets in free agency and will return to Minneapolis this weekend.
"I'm excited," he said. "It's definitely something for my fiancée and me, we learned to love Minnesota. I went from being a college student to a young man to a fifth-round draft pick to a starter. I had a house there. I love Minnesota and the fans. It will definitely be nostalgic to go back."
Conklin had a modest start to his NFL career (in a quirk of history, the Vikings actually selected Conklin in the fifth round -- No. 157 overall -- of 2018 NFL Draft, a pick the Jets had acquired from Dallas and then traded to Minnesota). He had 5 receptions as a rookie and 8 in his second season. His breakout season came in 2021 when he caught 61 passes for 593 yards (9.7yards a catch) and 3 TDs.
In last week's victory over Chicago at MetLife Stadium, Conklin and the team's other tight end signed in free agency -- C.J. Uzomah -- were part of a highlight clip that went viral when they formed a tag team while blocking for a Garrett Wilson reception.
"I think when the Vikings study the Jets against the Bears they're going to be impressed how they blocked those outside zones," NFL analyst Brian Baldinger told team reporter Eric Allen on this week's edition of "The Official Jets Podcast." "They [Conklin and Uzomah] have the ability to seal the edge. They were excellent on that screen to Wilson, they look like they're really enjoying blocking. I thought Conklin was excellent last year. He's familiar with the [Vikings'] defense, with the personnel and I'm sure there are some things he might be able to help out plan wise. The tandem of him and C.J. is playing well."
Last week Conklin caught 3 passes for 50 yards from QB Mike White. So far this season he has caught 38 passes for 381 yards (10 yards a catch) with 3 TDs -- which matches his total from last season. The Jets are 5-1 on the road and the Vikings are 5-1 at home, so something will have to give in White's first road game under center this season.
"Mike is not someone you have to worry about," Conklin said. "He prepares well, you see how he played last week [22 of 28, 315 yards, 3 TDs]. We'll follow his lead. He doesn't get too high or too low, he's a calming presence in the huddle. A very prepared player. I don't think we have to do anything to help him. He'll help us."
The Vikings (9-2) are at the bottom of the league in passing defense, and in the middle of the pack in rushing defense. A few weeks ago, the Cowboys amassed 151 rushing yards in a 40-3 win -- perhaps showing the way to the Jets (7-4) as they go for a second straight win.
"Any time you can run the ball efficiently it makes throwing the ball a lot easier, we saw that on Sunday," Conklin said. "Me and C.J. do what we have to do to embrace whatever we have to do. On certain plays and in games, sometimes you get a chance to get the ball in your hands, sometimes need to be more gritty. Sunday was nasty, cold, but we embraced it and had fun out there. We're happy for each other and get fired up for each other, we had a lot of juice."
After the 31-10 win over Chicago last week, head coach Robert Saleh did not miss the spirited play of his tight ends, basically the entire team.
"Football's fun, it's supposed to be fun," Saleh said. "When you're having success, it is fun. There's a clip of our two tight ends practically chest bumping after a run because they blocked. Guys are playing selfless football and when everyone's playing selfless, and I always say when you give with no intent to receive, it comes back twofold. Guys are really playing for one another."
See the top photos from Wednesday's indoor practice leading up to the Vikings game.