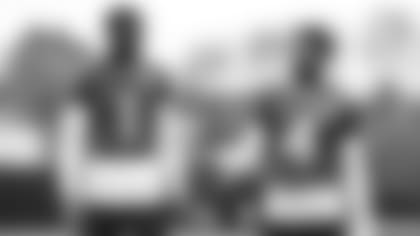 What's New
Last season, the Jets secondary was one of only two in the league without a player selected in the first two rounds playing 500+ snaps. That will change in 2022 after the Jets, universally praised for their seven-player draft class this spring, started their Las Vegas proceedings with the selection of CB Ahmad 'Sauce' Gardner with the No. 4 pick. That move came after the Green & White signed D.J. Reed, a former fifth-round pick of the San Francisco 49ers in 2018, early in free agency. While Gardner is a special talent, Reed, coming off a career year in Seattle with 10 PDs and 2 INTs in 14 starts, is a young veteran (25) who has logged 2,045 NFL defensive snaps.
Under the direction of DC Jeff Ulbrich and senior defensive assistant/CB coach Tony Oden, the Jets saw significant growth from their young group of corners last season. Bryce Hall, a fifth-round pick in 2020, led the defense in pass defenses (16) and led the team in snaps with 1,126. Brandin Echols, a sixth-round pick in 2021, was one of just 12 non-OL/DL rookies to start 14+games and his 9 pass defenses were tied for the sixth-most among all rookies. Nickel corner Michael Carter II, a fifth-round pick, logged 743 snaps and had 71 tackles while becoming one of only four Jets rookies since 2000 with 4+ passes defenses (5) and 4+TFLs (4). Gardner and Reed upgrade the position immediately and this corner group suddenly has impressive depth.
Players to Watch
Nothing to overthink here as many eyes will be fixed on Gardner and Reed on the outside. With quarterbacks avoiding him, Gardner (6-3, 200) allowed only 13 catches overall for 117 yards in 2021 and his stat line included 3 INTs, 3 sacks and 4 PDs. He had 9 interceptions for his three-year career, two of which he returned for scores in 2019. A third TD came after a blocked fiel- goal attempt at East Carolina as the lankly defensive back put his 4.41 wheels on display.
"I fit great," Gardner said of the Jets. "However, they want to use me, I'm willing to be versatile, I'm willing to do whatever it takes to win. They want to play zone, they want to play man, they want to blitz me, they want to put me at linebacker — I don't think that's going to happen, but I'm willing to do whatever it takes; however they want to use me."
Gardner can be successful in man and zone plus the Jets like the Detroit native's tackling tenacity on the perimeter. Gardner had 99 tackles at the 'Nati including 40 stops last season.
"I love him man," Reed said of Gardner. "I watched his tape and he's everything that the media is saying he is, he's a lockdown cornerback. He did it in college, and I believe he can do it at the NFL. He's prototypical, he has elite characteristics and he plays with great eye discipline. He can catch too. He makes great plays on the ball and it's just an overall complete cornerback in my opinion. I'm looking forward to balling with him."
Reed reunites with Robert Saleh, the latter who was the 49ers defensive coordinator in Reed's first two professional seasons. Reed (5-9, 188) registered a 78.6 PFF grade with the 'Hawks in 2021, ranking No. 7 among corners who took at least 50% of his team's snaps and 51.5 reception percentage was tied for sixth. Opposing quarterbacks completed just 46.2% of their pass attempts when targeting Reed, which was the third lowest among qualified corners.
"D.J. Reed, I always talk about Nate Shepherd being the king of strain, D.J. Reed is going to be right there with him for that crown," Saleh said. "The young man works his absolute butt off and every single play you will feel the intensity of how he plays."
Key Question
The Jets new corner tandem have made big moves. How will the early transitions go for Gardner, who is making the jump to Sundays, and Reed, shifting to AFC East life following four years in the NFC West?
Saleh said of the Gardner's pro elevation: "It's probably going to be the speed releases that he's probably going to get, if I was to pick one. He's used to disrupting at the line of scrimmage and slowing things down, so when guys get free access release, they get on you a lot faster. That's always the biggest adjustment for corners, but at the same time, our zone defenses for corners are pretty simple. Just don't give up plays behind you. When it's crunch time, he'll be exactly where he's supposed to be."
What will the rep distribution look like during training camp and the Jets' three preseason games? Hall and Echols took strides last season and they're competitive young DBs who will still be looking to take another step. In addition to depth on the outside, the Jets have insurance behind Carter II in Javelin Guidry.
Last season, the Jets tied for 30th in interceptions (7) and 27th on third down (44.3%). Saleh wants his corners to shut down down in the game's most important moments and he's got a new pair who are going to help to that end.
"Corner is very important, because it's everything we talk about on third down and on crunch time when the whole world knows your passing the ball and the whole other side of the world knows you're in man coverage and it's a one-on-one football game," Saleh said. "That's difference-making."