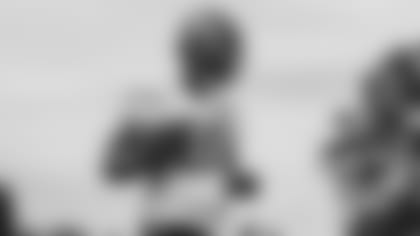 What's New?
If you look at the tight ends on the roster, not a lot. Chris Herndon has been in the Jets' meeting rooms and on their fields since 2018. Ryan Griffin, Daniel Brown and Trevon Wesco have all been around since '19.
But GM Joe Douglas' personnel team did make two intriguing additions. One is unrestricted free agent Tyler Kroft, who signed in March. He had 42 catches for 404 yards and seven touchdowns for Cincinnati in 2017 and has 85 catches for 851 yards and 12 TDs in his six pro seasons, the last two spent with Buffalo. And Gil Brandt of nfl.com is among the draft analysts who think the Jets signed the best undrafted FA available at the position when they snagged Kenny Yeboah, who transferred from Temple to Mississippi and put up intriguing numbers (27 catches, 524 yards, six TDs in eight games) for the Rebels last season.
Then we'll mention three of Robert Saleh's new coaches. Among the positions that thrived under Jets OC Mike LaFleur on the 49ers offense the past three seasons was TE — or maybe it was just George Kittle alone. In any event, Kittle's 1,377 yards in 2018 were the most by a TE since 2000, until KC's Travis Kelce went 1,416 last year. Passing game coordinator Greg Knapp has been part of nine passing offenses of 4,000-plus yards in his first 25 coaching seasons, with tight ends figuring prominently in a number of them. And Saleh is familiar with Ron Middleton's work after Middleton, a former pro TE himself, and Saleh worked together as Jacksonville assistant coaches from 2014-16.
Players to Watch
Herndon, of course. Fans are waiting for him to have a full monster year at the position. He's had spurts, as a rookie in '18 and late last season, but now needs to put it together for 16 ... er, make that 17 games. With health and role set, Griffin, entering his 9th NFL season, can be a dangerous short-range receiver, as his 2016 (career-highs of 50 catches and 442 yards at Houston) and '19 (career-best five TD catches in his first Jets season) demonstrated.
Yeboah may or may not make it to the regular season, but it will be interesting to see how he and second-round WR Elijah Moore play off each other when they're on the field in training camp and in the three preseason games. In their eight games together at Ole Miss last year, Moore had 86 catches for 1,193 yards (13.9 yards/catch) while Yeboah averaged 19.4 yards/catch and they combined for 14 scores.
Key Questions
Will Herndon's last quarter of 2020 carry over? In those four games, including the wins at the L.A. Rams and vs. Cleveland, he had 15 catches on 17 targets for 154 yards and TDs vs. the Browns and Patriots. ... Can Brown stick around? His 630 special teams snaps the past two seasons, most by a Jets TE since 2012, suggest it's possible. ... Does Wesco, the fourth-round selection in 2019, have what it takes to up his production after totaling just three receptions on five targets and 360 offensive snaps in his two seasons?
See the Jets TEs Leading Up to the 2021 Season