After making five trades involving draft picks last year, Mike Maccagnan almost went his whole second draft as Jets general manager without making a trade. Almost.
But in the middle of Round 5, Maccagnan and the Jets traded up with the Washington Redskins and selected tackle Brandon Shell of South Carolina — the great nephew of Pro Football Hall of Famer Art Shell — with the 158th overall pick.
"We have a pretty good relationship," Brandon said of his great uncle. "He gives me confidence to be who I need to be.  He helped me a lot over the process just telling me what I need to do and going out there and being myself and just giving me confidence to do it when I go out and meet with teams. He's been a real big help for me throughout this process."
As for being a player the Jets moved up the draft ladder to snare, Shell said, "It's awesome just being a part of the Jets organization. I'll be ready to get up there and get to work."
The pick was one spot behind where the Jets would have selected in Round 5 had they not sent that pick to Denver in the trade earlier this month for T Ryan Clady. In today's trade, the Jets sent to the 'Skins next year's fourth-rounder. The Jets still have both picks in the seventh round today.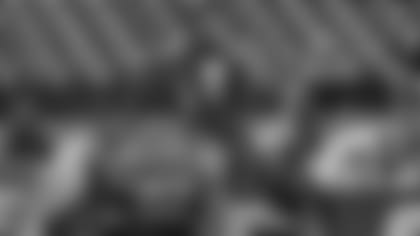 "As the draft unfolded, the player slid to a point where we felt it would be worth investing and trading a [2017] fourth-round pick to get the player we liked in the fifth round," GM Mike Maccagnan explained. "We took the player now from an investment standpoint and gave up a fourth-round pick going forward.
"Some of that also had to do with the fact that we had compensatory picks that we're projected to have next year after what happened in free agency. We'll still potentially have a fourth-round pick next year that's a compensatory pick. We just used it a little bit earlier this year. We didn't actually trade the compensatory pick. We traded our actual draft pick we have in the fourth round next year."
Maccagnan thinks Shell has "a lot of ability and potential. We thought from a value standpoint where we took him was very good. He's a big, long athletic offensive tackle who has the chance to potentially develop into a good backup, possibly a starter in time. He's like a lot of players. He probably needs some work. We're excited about where we took him and felt the investment for making the trade was well worthwhile."
Shell is a big yet durable man at 6'5" and 324 pounds who held down right tackle for three seasons before shifting to the left side as a redshirt senior last year for the Gamecocks. His pass protection will need refining at the NFL level but he was a formidable force in the run game. In his last four years at South Carolina, he played in all 52 games, started 48, and started the last 47, which is the second-longest consecutive-starts streak in Gamecocks history.