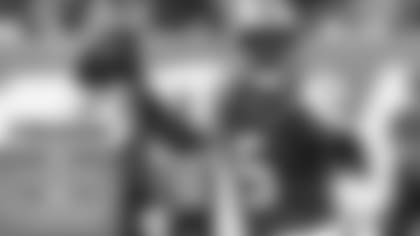 The Jets have traded QB Teddy Bridgewater and a 2019 sixth-round pick to the New Orleans Saints in exchange for a third-round pick next April.
Bridgewater signed with the Green & White after passing a physical in March. In three preseason contests, the 25-year-old completed 73.7 percent of his passes for 316 yards with two touchdowns and one interception.
"In his time with us, Teddy was the consummate professional, a great teammate, and a tremendous leader," said general manager Mike Maccagnan. "He worked diligently with our medical staff and made tremendous strides along the way. We wish him nothing but success in the future."
A first-round pick of the Vikings in the 2014 NFL Draft, Bridgewater played 29 games his first two seasons and helped lead Minnesota to its first division title since 2009. After connecting on 65.2% of his passes and throwing for 3,231 yards along with 14 touchdowns and just nine interceptions, Bridgewater was named to his first Pro Bowl.
But during at team practice in the summer of 2016, Bridgewater suffered a non-contact injury to his left leg that included major structural damage. After missing the entire 2016 campaign and the vast majority of the '17 season sans a couple of snaps, many wondered if Bridgewater would ever make it all the way back. But Bridgewater was able to participate in all team activities throughout the spring and the summer and then finally cleared a final hurdle when he absorbed a couple of hits in Washington.
"I just wanted to get hit," Bridgewater told reporters following the Jets' 15-13 loss on August 16. "I don't know if it's the right thing to do or say as a QB, but for me, it's just continuing to knock down that mental block. I could have thrown the ball away or run out-of-bounds, but I wanted to challenge myself and see if I could take a hit. It was fun. Get up, smile, tell the guys, 'Hey, that was nothing. Next play.'"
Bridgewater's next uniform will be that of a Saint as he figures to take over the backup role behind Drew Brees. Both rookie Sam Darnold, the Jets' No. 3 overall draft selection, and Josh McCown, who had a career year last season while starting 13 games, will be the Green & White's quarterbacks in 2018. Wake Forest product John Wolford, who was a tryout player at the team's rookie minicamp, could play Thursday night in Philadelphia against the Eagles and will be considered for the practice squad.
Looking ahead to April's draft, the Jets own six selections including a pair in Round 3. They will have single picks in Rounds 1, 4, 5 and 7.