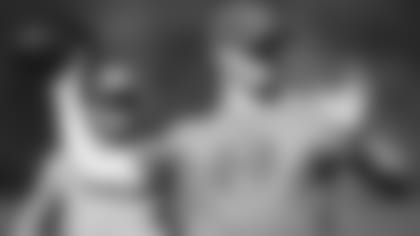 QB Christian Hackenberg didn't participate in team drills during today's first Jets OTA practice, and head coach Todd Bowles' news conference was delayed by a few hours.
The two were connected. Bowles announced shortly after 4:30 p.m. that the Jets have traded Hackenberg, their second-round pick in the 2016 draft, to Oakland for a conditional seventh-rounder in next year's draft, leaving Josh McCown, Teddy Bridgewater and third pick of the draft Sam Darnold as the QBs on the roster.
"We've got three quarterbacks," Bowles said. "Obviously we drafted Sam in the first, we like Teddy, we like Josh. We had just one too many to get all of them reps, so we held [Hackenberg] out today because we had things in the works. ... We just want to go with the three quarterbacks we've got and let these guys battle it out."
Hackenberg spoke with reporters after the practice and before the trade was announced. He was asked about being held out of team drills.
"It's out of my control," he said. "All I know is that I'm 23 and I have a lot of ball ahead of me. So about what the future holds, I know deep down that this is really big for me. And I'm excited about it."
Bowles also noted Hackenberg's youth and said he was going to meet with his now former QB right after his presser.
"Hack's a great guy," the coach said. "He should want to play and he's a competitor."
Why, Bowles was asked, didn't it work out for the former Penn Stater who became the 51st overall pick in the '16 draft?
"I can't answer that fully," he said. "Some players, it takes a while for them to get going. Some go to Canada, some go to different teams. ... We did everything we could to try to help him as best we could. Sometimes it just works out somewhere else."
Hackenberg, who worked this offseason on his throwing motion — "I eliminated some inefficiencies both with my feet and with the motion up top" — was asked if he thought a fresh start somewhere else would benefit him.
"My job every day is to come in, whether it's here or somewhere else, and focus on making myself better in any way possible," he said. "All I know is that I'm in a really good place right now from a fundamental standpoint and upstairs mentally, so I am excited about what the future holds."
Hackenberg becomes the Jets' first second-round pick not to play a down in the regular season since WR Reggie Rembert, taken 28th overall in 1990.
Hackenberg did get 231 offensive plays in six games the past two preseasons, with two starts last summer. He completed 59 of 121 passes (48.8%) for 531 yards, three touchdowns and four interceptions for a 55.5 passer rating.
"A lot of picks work out, some don't," Bowles said. "It didn't work out here. Hopefully his career will continue elsewhere."
As for the current QB situation, the coach said it was still only the first day of OTAs but he liked the way Bridgewater moved around. Along with McCown and Darnold, the Green & White could add another arm to the mix later "if we need to bring one in" but "we'll stick with three right now."