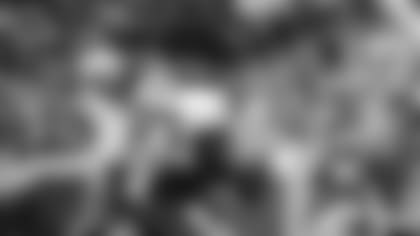 Second-year Jets OC Mike LaFleur has always looked to integrate new playersinto his offensive scheme. Saturday night at the Green & White Scrimmage at MetLife Stadium he got a look at C.J. Uzomah and Tyler Conklin in action.
Conklin and Uzomah joined the Jets for this season as free agents after career-best seasons.
In his last of four years with Minnesota, Conklin reeled in 593 and 3 touchdowns, all career-highs. Uzomah totaled 493 receiving yards, 5 touchdowns and 49 receptions, career bests, and was a standout in the postseason hauling in 15 receptions as Cincinnati reached Super Bowl LVI.
Despite playing their recent experience, once they arrived at the Atlantic Health Jets Training Center, LaFleur worked them in slowly as the defense was still installing new sets.
"I think during practice it's a little tough," Uzomah said. "There are some things that we want to do but we are kind of trying to tempo it a little bit just to make sure we aren't going out there and killing our defense."
On Saturday, however, in the closest thing to full-fledged football since last winter, LaFleur rolled the tight ends out in his first team's 11- and 12-man personnel sets and allowed their skills to "open up" the offense.
"This offense should and did open up with both of us," Uzomah said. "In 12 personnel and 11 personnel, there was not a beat missed."
In the passing game, Conklin added an explosive dimension in the middle of the field. In the 7-on-7 period, he beat a linebacker and made a lunging catch for 19 yards. During the first move-the-ball period, he caught two balls on curl routes for 19 and 4 yards, and later found the end zone on a seam route from 10 yards out. In the ending two-minute drill he caught a 6-yard pass to push the ball near midfield.
Uzomah played an important role in the blocking scheme, chipping DE Carl Lawson in pass protection and blocking ahead of screen plays. He caught one pass in the flat from Zach Wilson for 7 yards. After most plays, he and Conklin would convene on the sideline to compare notes.
"It is fun," he said. "We will come off to the sideline and be like, 'Well, that is going to be a damn good play.' Like we know when stuff is going to work for sure."
Last season, the Jets were challenged to produce at tight end Five players combined for 534 yards. Saturday's play by Uzomah and Conklin was a hint of what LaFleur has in mind for the offense this season.
"There are a few things that we need to make sure that we're on our P's and Q's about," Uzomah said "But again, it should be very fun, and it should open up the offense a lot with both of us."
See the Green & White on the field at MetLife Stadium.