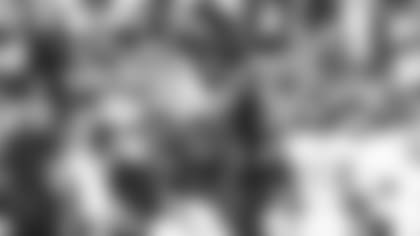 Tyler Conklin perhaps had the most apt description of guys who play his position.
"Tight ends are supposed to be a quarterback's security blanket," Conklin said.
If that's the case, Conklin has been one of the best tight ends in the league this season keeping his QB warm and cozy, while blocking, catching and running.
There was no better example of that than last week at Denver when the Jets faced third-and-4 at their own 31-yard line with 3:56 left in the fourth quarter, clinging to a 24-21 lead.
"They doubled Garrett [Wilson] on the outside, Zach [Wilson] saw it was different, checked down and saw the matchup," Conklin said. "I was hoping he threw it to me. And he threw it."
The burly 6-3, 254 Conklin caught the ball at the Jets' 45-yard line, crashed into a defender at midfield and refused to go down. With the aid of his teammates — including C Connor McGovern and WRs Allen Lazard and Randall Cobb — he blasted his way to the Broncos' 31 for a 37-yard catch-and-run, giving the Jets a crucial first down and the opportunity to burn more clock.
Offensive coordinator Nathaniel Hackett called it one of the best plays he's ever seen.
"I love that he thinks that," Conklin said. "That makes me happy for him going back to Denver and doing that to get the win for him."
Hackett spent part of last season as the Broncos head coach and had nothing but praise for the tight end who is second on the Jets (behind G.Wilson) with 17 catches for 203 yards (11.9 yards a catch). That fourth-quarter pass-and-run play was Conklin's longest of the season.
Asked about how pivotal that particular play was, and Conklin's contribution has meant, Hackett said: "Unbelievably important, both as a person and as a player. I think that, for me, I've been lucky enough to do this for a long time and that third, and I believe it was third-and-4 when he had that 37-yard gain, that was one of the most perfectly executed plays I've ever seen. Then the mentality and physicality afterward, that is what as a coach, we all strive for. I mean Zach makes a great read. They doubled Garrett [Wilson] and then he [Conklin] ran a perfect route. He delivered the ball perfectly and then what he did after the catch just shows who he is, and he's been doing that consistently throughout this year. Drop-stepping, running, trying to run over a guy and then watching all the other guys come together and push that pile, I'm getting tingles right now. I don't know about you guys. That to me was one of the most perfect plays I've ever seen. That kind of a critical moment was just so awesome to see. It started with Conk and watching him deliver that and deliver the blow and run, so he's been great."
Through five games this season, Conklin, 28, who joined the Jets in free agency last year after four seasons with the Vikings, has picked up 7 first downs and leads all tight ends in third-down yardage.
"That's a pretty cool stat, I like that," he said. "As a team, I think we've been meshing really well. We've had our struggles on third down. Zach got thrown into that first game [after Aaron Rodgers' season-ending injury]. I think he's really settling into it. Not just the game plan and scheme but getting back that timing with everybody. 
"The main thing is his confidence. The coaches are doing a good job with the game plan and getting him comfortable. In practice he's so comfortable, the little things, it's just a feel thing and we can feel his confidence growing over the last two weeks."
Not to be overlooked has been the blocking ability of the Jets' three tight ends: Conklin, C.J. Uzomah and second-year man Jeremy Ruckert. Conklin's critical third-down catch-and-run was seen by head coach Robert Saleh as emblematic of his team's complete buy-in.
"Put the whole team on your back," Saleh said. "The strain and violence and love that I think our players have for one another and to put that forward and then seeing the O-line run down the push them and the amount of effort that was involved and everybody just showing up, I thought it was a cool play."
After ending a three-game slide, but with strong performances against Buffalo and Kansas City, Conklin said he and the rest of the Green & White players are itching to take on the unbeaten Eagles (5-0) on Sunday at MetLife Stadium.
"We're definitely ready," he said. "We're up for the challenge."
See top photos of the Jets on the field during Friday's practice of Eagles week.