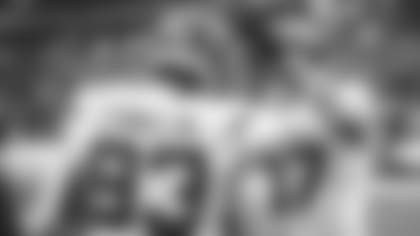 Table inside Article

| Jets Player | Exper in '23 | GP-GS-DNP-IA | O-ST-Total Snaps |
| --- | --- | --- | --- |
| Tyler Conklin | 6th | 17-16-0-0 | 861-129—990 |
| C.J. Uzomah | 9th | 15-13-0-2 | 525-181—706 |
| Kenny Yeboah | 3rd | 10-0-0-2 | 26-213—239 |
| Jeremy Ruckert | 2nd | 9-0-0-8 | 46-101—147 |
| Lawrence Cager | 3rd | 1-0-0-4 | 10-11—21 |
No Longer with Team: Cager
POTENTIAL FREE AGENTS IN '23
'23: Stability and Growth
One construction job that GM Joe Douglas and HC Robert Saleh undertook with gusto in the offseason was the rebuild at tight end. Ryan Griffin, Tyler Kroft and Trevon Wesco departed. Arriving in free agency were two veteran blockers/pass catchers in Tyler Conklin from Minnesota and C.J. Uzomah from Cincinnati. Ohio Stater and Long Islander Jeremy Ruckert was selected in the third round of the draft. The steadiness was there, game to game. The production was good, could be greater, and should continue to rise in the unit's second season together.
Conklin (58 catches), Uzomah (21) and Ruckert (1) combined for 80 receptions in 2022, the most in a season by the Jets' tight end position since 1995, when Johnny Mitchell (45), Kyle Brady (26), Fred Baxter (18) and Tyrone Davis (1) produced 90 TE receptions. And the rushing game in one- and two-TE formations was decent, and before rookie Breece Hall's injury in Game 7 at Denver, it was outstanding with an average of 5.01 yards/carry.
"I'm really excited about Jeremy," Saleh said of Rucker before the Miami finale. "I know he hasn't had a lot of action this year, but that's more a testament to Conk and C.J. The excuses I can make for him is that he missed all of OTAs and he missed all of training camp so he's just kind of been behind the eightball. If he can put together a really good offseason, I think people will see a damn good tight end."
'22: Quick Look Back
Conklin quickly emerged as the No. 1 TE. He caught his first touchdown pass as a Jet in the opener against Baltimore and had two TDs in Game 8 vs. New England. His 58 receptions were tied for sixth-most in a Jets regular season, and he was never listed on a Jets practice injury report. Uzomah fought a few injuries, played less and racked up fewer receiving metrics than Conklin, but still showed his skills with two touchdown grabs vs. Detroit, including a 40-yarder from Zach Wilson that was the longest scoring catch by a Jets TE since Dustin Keller and Mark Sanchez collaborated on a 45-yarder in the 2009 AFC Wild Card win at Cincinnati.
Ruckert had difficulty getting on the field, being deactivated in eight games and playing just 26 offensive snaps in nine games, but he got his most snaps in a game (19) in the fnale at Miami as well as his first pro reception to take into the offseason with him. Kenny Yeboah also saw limited action for the second straight season, this past year a little less on offense and a lot more on special teams.
TE Trivia
Something to shoot for? The Jets' tight ends position racked up 1,000-plus receiving yards in a regular season only twice in their history, 1985 (1,062 yards) and 1988 (1,005). The common denominator: Mickey Shuler was the main receiver both years, with 76 catches for 879 yards in '85 and 70 for 805 in '88. Shuler's '85 numbers are both franchise TE marks.