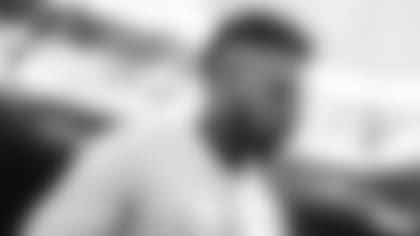 The plan would have been to give the Jets offense, for Sunday's home game against Dallas, a shot in the arm with the return of tight end Chris Herndon to action after his four-game NFL suspension.
But today for the second straight day, Herndon did not practice with the team due to pulling a hamstring while running routes last Friday.
"It was just a little freak accident, just a routine route I was doing and I kind of tweaked it a little," Herndon described what happened when he spoke with reporters for the first time today since before the opener. "So I just stopped right then.
"I'm just making sure I'm doing what I have to do every day, making sure I'm making progress every day," he said, "and whenever they feel like I'm ready, they'll let me go."
Of small comfort was that Herndon said the hamstring wasn't bothering him as he conducted his short news conference.
"It feels good," he said. "But I know sometimes the body works kind of weird. You feel better than it actually is. Like I said, right now I'm just working with the trainers and doing everything they're asking me to do."
Head coach Adam Gase didn't give a progress report today other than saying Herndon would sit out practice. On Wednesday, Gase said he wasn't "lamenting" Herndon's injury after all the other health issues this season, saying, "No, I think I used all those up already."
He added about his tight end's prognosis: "We'll see how he feels at the end of this week. We're going through the steps as far as we just found out the last few days, we don't know how he is going to feel tomorrow or the next day."
Herndon's absence has impacted the tight end room, which is off to a receiving start similar to the 2015-16 teams that were last in the NFL in number of targets, receptions yards and touchdowns by tight ends. After four games this year, the Jets' TE position has seven targets and five catches for 17 yards, all by Ryan Griffin.
Herndon's return would boost those numbers, considering that last year as a rookie he had 55 targets and 39 catches for 502 yards and four TDs. His 12.9 yards/catch average was seventh in the NFL among qualifying TEs.
But as RB Le'Veon Bell put it this week, the Jets have to roll with the punches, whether it's Sam Darnold not returning from mono as hoped for the Philadelphia game or Herndon injuring his hammy.
"When I got the news Thursday, it was a little disappointing," Bell said of last week's Darnold update. "But at the same time, I still go into a game thinking the next-man mentality. ... It was obviously a little disappointing when you hear a starter that you're expecting to play doesn't play.
"Same thing with Chris. It's a little disappointing getting the news, but what about the next man up? Whoever's next up, the guys around him have got to help bring him along. We'll be ready."