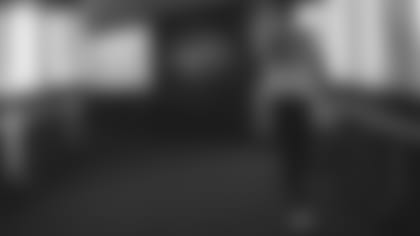 While it is veteran TE C.J. Uzomah's first year with the Jets, he fully understands the significance of Sundays' game against the Patriots.
"Being a first-year player, you kind of understand the rivalry that is the Jets versus the Patriots," Uzomah said. "It's kind of known around the facility that we want this one bad. So that's the message for us. It's a divisional game that is a must win game for us. We've won four in a row, but at the same time, nothing's more critical than this fifth, against a division opponent, especially when it's the Pats. So, we know it's going to be a physical battle, and we know we have to get after them."
The Green & White have lost the last 12 games against New England and Sunday will be the second time the Patriots (3-4) under Bill Belichick will face the Jets (5-2) in Week 8 or later with a worse record than the Green & White. Even though New England has had uneven start to the season, the Patriots remain a well-coached team with a stringent defense. The Pats' 13 takeaways are tied for third in the NFL and the defense is led by LB Matthew Judon, who leads the league with 8.5 sacks.
Uzomah and Tyler Conklin will have their hands full helping the Jets O-line block Judon, Deatrich Wise (5 sacks) and the rest of a unit that ranks No. 5 in the NFL with 21 sacks.
"I think Judon is leading the league in sacks right now and he's obviously a great player, but we've played a lot of good edge rushers like Myles Garrett and other guys this year," Conklin said. "So, we'll be doing stuff to help us and help protection there. New England is a team that kind of tries to make you mess up and try to make you screw up by giving you weird looks using different personnel, so we just got to stick to our rules and do our thing."
Following the Jets' win over the Packers in Week 6, OC Mike LaFleur credited Uzomah for two key blocks on consecutive plays that set up the team's go-ahead touchdown and said the former Bengals TE "affects the game in such a positive way." Without RT Alijah Vera-Tucker for the rest of the season (torn triceps), Uzomah and Conklin could be called on to help RT Cedric Ogbuehi Sunday in his first start with the Green & White.
"They're relentless," Uzomah said of the Patriots defense. "Their front, five, six, front guys play hard. They're physical and their linebackers are really good. It's going to be a physical battle for me and the tight ends. I think as a unit, it's going to take a lot from us. We do a lot of things and we're going to have to be involved both in the in the pass game and in the run game to make sure that the offense has the juice."
Since QB Zach Wilson's return from a right knee injury, the Jets are 4-0, averaging 26.8 points per game, which ranks No. 8 in the NFL and No. 11 with 141.8 rushing yards per game. Wilson has thrown 1 touchdown pass and is averaging 173.3 yards per game in that span. Uzomah, who has been a big believer in Wilson since training camp, is not worried about Wilson's numbers and is confident in the former No. 2 overall pick.
"It's crazy how we can win four games and people are so critical on everything," Uzomah said. "It's not just [Wilson], it's a multitude of things. We've had drops, we've had certain guys not running the right route or right depth, it's everything."
He added: "We know who we have in here, we know what kind of guy Zach is. We know what kind of quarterback he is. When the game is on the line, he's going to make a play to put us in the best position."
See the top practice images leading up to the Week 8 matchup against the Patriots.