*Updated, 12:32 a.m. ET, April 30
*
The Jets went to the quarterback position with their second-round pick of the draft tonight when they took Penn State QB Christian Hackenberg with the 51st overall selection.
"I'm still in shock right now," Hackenberg told Jets reporters on a conference call tonight. "I'm very fortunate to have this opportunity and I'm looking forward to getting there and putting my head down and getting to work."
"Obviously, Christian has a lot of physical ability in terms of arm strength, athletic ability, size — he's sort of prototypical from that standpoint," general manager Mike Maccagnan said. "We worked him out, had a private workout with him, we spent time with him, we had him in for a visit. We think he has a lot of potential, from a mental and aptitude standpoint. We think there's a lot of ability to work with there."
Hackenberg (6'4", 223) was the Big 10 Freshman of the Year in 2013 and left Penn State as a true junior after setting school records in passing yards, completions and touchdowns and became the only Nittany Lion to throw for three 2,000-yards-plus seasons.
The 21-year-old didn't miss a start in college, making 38 in all. This offseason he worked with former NFL QB Jordan Palmer to clean up his technique.
He said his roller-coaster Penn State career taught him some life lessons.
"I think you're defined by how you react to not success but failure and adversity," he said. "In my mind, I think my whole experience up there really prepared me to be able to take this next step. Not everything is going to be perfect and not everything is going to go the way you wanted it to especially at this level.
"I kept swinging. It was a blessing, so I think it's only prepared me and I'm very excited to come in and again just get back to work and to be part of a team again. It feels like it's been forever with this whole draft process not having a building necessary to be operating out of."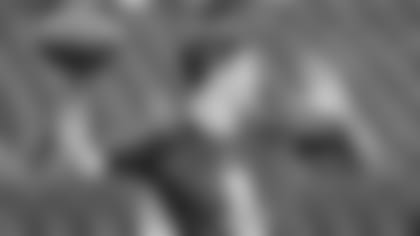 Hackenberg hails from Palmyra, VA, and was an Under Armour All-American and was rated as the top pocket-passing QB in the nation as a senior at Fork Union Military Academy.
Hackenberg is the first signalcaller taken by the Green & White since they tabbed Bryce Petty out of Baylor in the fourth round last year and the first QB taken as high as Round 2 since going with Geno Smith from West Virginia there in 2013.
He's also the 27th Penn Stater drafted all-time by the Jets, the most from any school. This even though the most recent Nittany Lion taken by the Green & White was T Kareem McKenzie in 2001.
Appropriately, the Jets pick was announced by former QB Chad Pennington, the Jets' third first-round pick of the 2000 draft, 18th overall, out of Marshall. Each selection in Round 2 is being announced by "special guests," all former players from the NFL Legends Community, one representing each team.
The Jets made their pick, the 20th of Round 2, right after the Texans leapfrogged from 21st to 19th in a trade with the Falcons and selected guard Nick Martin of Notre Dame.
The selection extends to a fifth straight draft the Jets' pattern of drafting defensive players in the first round and offensive players in the second. On Thursday night they picked ILB Darron Lee from Ohio State.
The Jets have used the 51st pick in four previous drafts, with the last two producing two solid pros from the Lone Star State in back-to-back drafts — T Reggie McElroy out of West Texas State in 1982 and RB Johnny Hector from Texas A&M in '83.