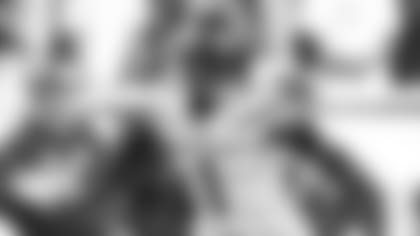 It was quite the haul, and we don't mean just the two Green & White legends who made it into the Hall. The Jets snagged the Associated Press Defensive Rookie of the Year in Sauce Gardner and the AP Offensive Rookie of the Year in Garrett Wilson. It was only the third time since the rookie awards kicked off in 1967 that one team grabbed both honors. And lots of reporters and analysts late in Super Bowl Week in Phoenix were impressed.
Rich Eisen even seemed to be smitten.
"I love Garrett. I love his passion, his accountability and he just doesn't accept losing," said Eisen, the face and voice of NFL Network. "And I love Sauce. He is a generational-type guy."
Of course, cornering the market on rookie trophies doesn't guarantee a thing. But the thing is, the Jets got lots of kudos from lots of NFL observers, not just for their two top rookies but for their young talent across the board.
One of those young pros was the third rookie in the Jets' 2022 draft haul, a second-round running back who, just as he was looking like an awards candidate himself, suffered a knee injury in Game 7 at Denver that ended his season way too early.
"Breece Hall is a legitimate potential rock star," said NFL Network's Ian Rapoport. "He's a truly an excellent player, and my guess is he would've been the Offensive Rookie of the Year had he not gotten injured."
"He's dynamite to watch," Eisen said. "He fire's me up, man."
The quality and quantity of Hall's impact was impressive. Let's say he played 6½ games, since he injured his knee in the second quarter vs. the Broncos. He gained 681 scrimmage yards, which is better than 100 a game. He scored five touchdowns. And with his 79-yard catch-and-run to Miami's 1-yard line, followed by a 62-yard TD run at Denver, Hall became the first Jets player, never mind rookie, to register a 60-yard run and a 60-yard reception in the same season.
But more than Hall caught the eye of NBC Sports' Chris Simms.
"When you look at the offensive line before the injuries, it's good. I'm not going to say top five but it's top half of the league with the potential to be better than that with some of those young guys," Simms said. "Then there's the cast of running backs, receivers, and OK tight ends that are still pretty good.
"And the defense, what is there to talk about? There's not a position you can look at and say they can be a little better there. They kind of have everything."
Eisen again: "The defense is ready to go."
Hall of Fame DB and Fox Sports analyst Charles Woodson, like Eisen, savors the Sauce, but he had some special thoughts on Quinnen Williams, Carl Lawson and the entire defense.
"The great thing for the Jets is they have a really good defensive line," Woodson said. "They have guys who can pressure, and not having to cover very long is a luxury for a defensive back. They have two young guys who play with a lot of confidence. It's fun to watch the entire defense play."
Mix in no-longer-rookie D-linemen Jermaine Johnson and Micheal Clemons, OL Alijah Vera-Tucker, CB D.J. Reed and the rest of young roster and the upshot with all that talent is that the Jets, despite the six-game skid to end their season at 7-10, had the NFL noticing the Green & White again. And not just the media types along Radio Row.
"The Jets got a lot of national momentum," Andrew Perloff of CBS Sports said. "A lot of people were talking about them earlier in the year. I think a lot of people like the young pieces."
Now all general manager Joe Douglas and head coach Robert Saleh need to do is square away their quarterback situation. That's a big job but once the starter is in place, the Jets could be ready for takeoff.
"The tailspin was no coincidence with Hall's injury and then you took away that dominant run game and the defense had to carry it," Omar Ruiz of NFL Network said. "In today's NFL, it's a difficult ask, especially for a young defense, to carry a team to the postseason. But Breece comes back healthy next year, the defense gets even better, and maybe they can become one of those defenses that can carry a team to the postseason, I think there's a lot to like heading into 2023."