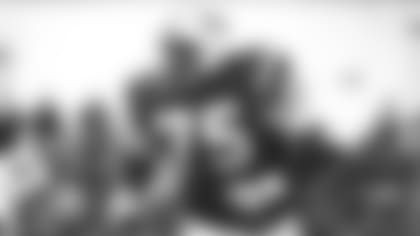 When Jets tackle Winston Hill was inducted posthumously into the Pro Football Hall of Fame as part of the Centennial Class of 2020, one memento was missing for Hill's family: a ring.
That has changed now that the Hall has revised its policy regarding presentation of Rings of Excellence to the families of enshrinees elected posthumously.
On Thursday night, at halftime of the Hall of Fame Game between the Jets and the Browns at Tom Benson Hall of Fame Stadium in Canton, OH, the rings for six deceased Hall members will be presented to family members.
Hill's ring will be presented to his daughter, Hovlyn Hill-May, who will be joined on the field by her sister, Heather Hill.
Two days later, the Hall of Fame will hold its Class of 2023 enshrinement ceremony Saturday in Canton, OH, when former Jets greats Darrelle Revis and Joe Klecko will enter football's shrine.
Previously, only individuals alive at the time of their enshrinement would receive a ring — one of three iconic symbols of membership in the Hall, along with the enshrinee's bust and gold jacket — with their incoming class. Last year the Hall revised its policy.
"Continuing this special ceremony is a vital part of welcoming all enshrinees and their loved ones fully into the Hall of Fame family," Pro Football Hall of Fame president Jim Porter said.
"KAY Jewelers is happy to continue their long-standing partnership with the Pro Football Hall of Fame to celebrate those entering the Hall of Fame, particularly those being recognized posthumously," Jenn Hammond, KAY's divisional vice president, said. "We ... hope the rings continue to serve as an iconic symbol of perseverance and love."
Hill, who died in 2016, was a 14-season Jets starter at left and right tackle, including in Super Bowl III who was also selected to play in four AFL All-Star Games and four NFL Pro Bowls. His eight all-star berths are a franchise record and he was an inaugural inductee into the Jets Ring of Honor in 2010.
Hill's family will be joined by the families of five other deceased enshrinees — George Allen, Alex Karras, Bill Nunn, Ed Sprinkle and Dick Stanfel — in receiving their loved ones' 14K gold rings with 1.75 carats in diamonds.