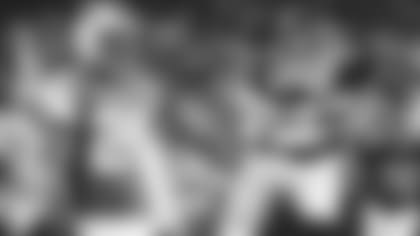 This is one in a series of articles that will also appear in the New York Jets 2023 Yearbook, which will be published later this summer.
To paraphrase the late, great Meat Loaf, four into five ain't bad.
In this case, the numbers refer to the players remembered primarily as Jets being inducted into the Pro Football Hall of Fame in the past five years.
With the selections and introductions of Darrelle Revis and Joe Klecko as members of the Hall of Fame's Class of '23 earlier this year, the Jets have been on quite a roll. Beginning with center Kevin Mawae in 2019, followed by tackle Winston Hill's posthumous induction the next year, the team has been blessed with four players who played primarily for the Green & White during their careers being welcomed into the hallowed halls of Canton in the last five years.
And including players who played mostly with other teams but played a season or two wearing green and white at the tail ends of their NFL playing careers, four more players with Jets connections — safeties Ed Reed and Steve Atwater, cornerback Ty Law and guard Alan Faneca — were inducted since 2019.
In all, eight primary Jets and 20 with Jets connections will have their bronzed busts in the Hall of Fame gallery by this year's induction ceremonies are held Aug. 5, two days after the Jets play in their first Hall of Fame Game in 31 years, taking on the Browns at Tom Benson HOF Stadium.