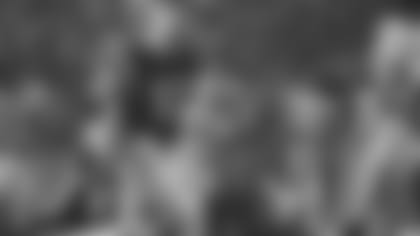 Jim Turner, the super-dependable placekicker who helped the Jets win Super Bowl III and in the second half of his career kicked well enough to enter the Denver Broncos' Ring of Fame, died at his Denver-area home Saturday, his family confirmed. Turner was 82.
Turner was a quarterback and kicker at Utah State who was drafted in the 19th round, 259th overall, of the 1963 NFL Draft by Washington. The Jets signed him as a free agent in 1964 and rode his leg to many victories as they ventured along their path to Miami's Orange Bowl and the 16-7 defeat of the Colts on Jan. 12, 1969.
Turner that day led all scorers with a first-half extra point and three second-half field goals, from 32, 30 and 9 — yes, 9 — yards away, to expand the Jets' 7-0 lead on Matt Snell's touchdown run to 16-0.
As a bit of Turner/Super trivia, his 9-yarder set the record for the shortest FG in Super Bowl history (later equaled by Dallas' Mike Clark). With the goalposts moved from the goal line to the end line in 1974, that's a record that can't be broken.
That title game was in keeping with No. 11's production in his seven Green & White seasons. At a time when AFL and NFL placekicking was not a reliable artform, Turner was as reliable as they came. He finished third in the history of the American Football League in scoring with 612 points, all on placements. And during his Jets tenure, from 1964-70, he was the No. 2 scorer in all of football with 697 points, trailing only the Vikings' Fred Cox with 715 points.
And about half of that production came on the often choppy grass, slick baseball-infield footing, and gusty winds off Flushing Bay at Shea Stadium, which the Jets shared with the Mets. Said ESPN's Chris Berman, who hosted the Super Bowl III 50th Anniversary evening for the team at MetLife Stadium, "I don't know how Joe [Namath] threw it, I don't know how Jim Turner kicked it. But it was our stadium." Turner was among the stars of that game in attendance for the private celebration in 2018.
From New York, Turner journeyed two-thirds of the way across the country and a mile high to Denver, where he scored 742 points, still third-most on the Bronco' all-time scoring list. And he finished with a Jets/Broncos career total of 304 field goals, No. 2 in NFL history at the time, trailing only George Blanda.
Turner converted 153 of 257 field goal attempts with the Jets, at a 59.5% rate that sounds pedestrian but was the fifth-best in pro football for those seven seasons. Then his 64.8% FG accuracy for the Broncos was sixth-best in the NFL from 1971 through '79, when he retired. He entered Denver's Ring of Fame in 1988.
"Jim was one of the last straight-ahead kickers in pro football and one of the most productive and accurate kickers," said Frank Ramos, the Jets' longtime public relations director. "He was a clutch kicker, which was borne out in the Super Bowl, and he showed his ability to win games by kicking in Shea, probably the most difficult stadium to kick in because of the strong, swirling winds."
Despite the 50/50 nature of field goals in the Sixties, Turner enjoyed his most memorable run of kicking at a considerably higher rate during a three-game stretch in the Jets' Super Bowl season. In a win over the Bills at Shea, he became the first Jets kicker to convert six FGs in a game, on a still-team-record eight tries. The next week, also at Shea against the Oilers, he converted four of five.
Then came "the Heidi Game" at Oakland, in which Turner tried his best to avoid the 43-32 fall-from-ahead loss to the Raiders by gong 4-for-5 again. That 14-of-18 was a part of his 39-of-55 campaign in '68, which included the Super Bowl plus the 27-23 payback win at Shea over the Raiders in the AFC Championship Game in which he converted two of three kicks. His 34 regular-season FGs that year set a pro football record.
And Turner was always available. In his 16 pro seasons, he never missed a game, kicking in all 228 regular-season games and all eight playoff games, which included a second Super Bowl appearance, a SB XII loss to the Cowboys.
Turner played in the AFL All-Star Games following the Jets' 1968 and '69 AFL seasons (in early '69 he duplicated his feat vs. the Bills with six All-Star Game FGs) and was named a second-team member of the AFL All-Time Team.
James Bayard Turner was born was born born March 28, 1941, in Crockett, CA, just up the road from Oakland-Alameda Coliseum, the Raiders' first home. When he retired as a player, he and his wife, Mary Kay, and their three daughters set up shop a mile high. His postgame career included some time as a football commentator for NBC Sports and as a radio talk show host in Denver. Just before he died, Jim and Mary Kay celebrated their 58th wedding anniversary.
"Dad was one of a kind," Turner's children said in a statement on Facebook. "His resilience and athletic ability enabled him to use sports as a path out of poverty. He was as determined and stubborn as he was kind. He had a huge heart, especially for underprivileged kids like him who were trying to make it. Dad cherished his lifelong friendships, was always on the side of the underdog, had a tough exterior but was actually a softie. ... He built a beautiful life with our mom, and loved her more than life itself. She was his comfort, his north star."
The family will hold a private celebration of life, with trips to Jim's special places. In lieu of flowers, the family requests donations be made to the Denver Broncos Alumni Charities.