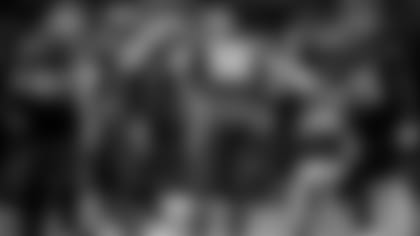 Back in the day, offensive lines would talk about being at their peak the more years they played together. In 2019, the timeframe has been reduced to months, weeks and even days of working together before being ready for the regular season.
The Jets are in that day-to-day mode now. All of the expected starters on the O-line practiced together today for the first time all summer. Head coach Adam Gase liked how the practice went.
"It seemed like it was pretty smooth," Gase said. "The good thing is being in the meetings, it wasn't like we forgot what we learned since the spring. The information is there. They know what we're trying to do. It's just kind of those guys jelling together as fast as possible."
And C Ryan Kalil explained the line's collective approach from now until Sept. 8 and beyond.
"It's a new offense and there's a lot of other new players as well, and guys that have been a little banged up that are going to be ready Week 1," Kalil said. "So there's definitely going to be some growing pains, there's no doubt about that. I think what makes a good team, though, is your ability to overcome the adversity of that, so we'll see how mature this team is, if we hit any roadblocks, if we hit any stumps, how well we're able to bounce back. Because we're going to have them."
Kalil continued to practice, even though his tentative debut in green and white was at first going to be for several series Saturday night against New Orleans, then was postponed. Kalil spoke about that group decision among him, Gase and general manager Joe Douglas for the first time today.
"We were talking throughout the week whether we were going to play or not, and at the last minute we just decided to give me more time, more so mentally than physically," Kalil said. "I'm feeling like I'm getting my legs back and feeling like my old self. I didn't take that much time off from football. It's not like Jason Witten took off a year and came back.
"Just being able to play fast, feeling comfortable with the playbook, it's easier when it's in a more controlled environment and you can call timeout because you're not sure what the play is. But in a live game situation, that's not OK."
The Jets' OL is getting back to OK. Brandon Shell returned to start at RT for the Saints. LG Kelechi Osemele and RG Brian Winters, whose injuries sidelined them the past two games, both practiced today. Add LT Kelvin Beachum and Kalil to the mix and with the depth developed by playing C Jonotthan Harrison, of course, plus guards Tom Compton and Alex Lewis and rookie T Chuma Edoga and, well, maybe this line is up to the task ahead. Kalil is optimistic.
"I know a lot of people, just in the short time I've been here, are really excited," he said. "Once we get in a groove, hopefully, the sky's the limit. But from what I've seen, we have the potential to be all those things everybody says we can be. It's just a matter of how quickly we can adjust and how quickly we can adapt. And maybe some veteran experience can help with that."