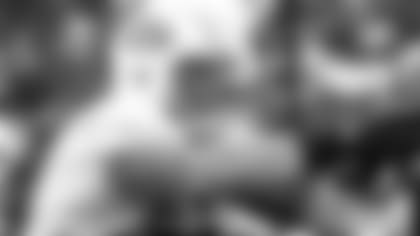 The Jets have signed offensive lineman Ben Braden to their practice squad.
Braden (6'6", 329), the first-year player out of Michigan, made the Jets' 53-man active roster for the start of the season. He was inactive for the Monday night opener at Detroit, then was waived Wednesday when LB Kevin Pierre-Louis returned to the roster following his one-game NFL suspension. Braden's addition brings the practice squad to its 10-player limit.
Braden was an undrafted free agent who joined the Jets after last year's draft. He played in all four games, 91 snaps in all, in last year's preseason, then was waived, signed to the practice squad, and spent the entire season there.
He was signed to a reserve/future contract on Jan. 1. This summer his preseason activity increased to 136 plays in four games.