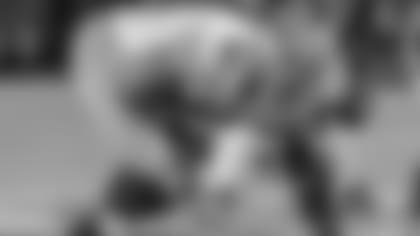 The Jets have signed free agent defensive lineman Chris Jones and have waived DL Claude Pelon.
Jones (6'1", 293) entered the NFL as Houston's sixth-round pick in the 2013 NFL Draft out of Bowling Green and has spent time on the rosters of the Texans, Buccaneers, Patriots, Dolphins and 49ers. He played 28 games with 22 starts for the Patriots in 2013-14 and notched nine sacks, 88 tackles and a fumble recovery in those two seasons combined.
In 2016 he split time with Miami (seven games, no starts) and San Francisco (six games, six starts). He spent last season on Injured Reserve and became an unrestricted free agent in March.
Pelon originally signed with the Jets as an undrafted free agent out of Southern Cal after the 2016 draft. He played 98 defensive snaps in the '16 preseason and spent two stretches on the practice squad.
He returned last year, played 126 defensive snaps in the '17 preseason and made his first and only appearance in a regular-season game with 17 defensive snaps in the opener at Buffalo. He spent the rest of the season on the practice squad.