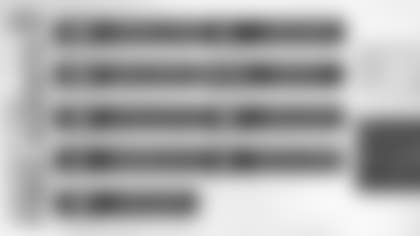 The Jets' initial list of nine undrafted free agents signed following the 2020 NFL Draft is an interesting group that features among others a "Cager" who's a big-target WR, another WR who averaged nearly 25 yards/catch last year, and a CB with a given name of Javelin who has eye-opening speed
Here are capsules on the Jets' undrafted free agents:
Lawrence Cager, WR, Georgia (6'5", 220) — Originally wanted to go to Georgia but with no scholarship offer went to U. of Miami instead. Played as a freshman in '15, lost '16 to an ACL injury, then had 16 catches for 237 yards and 3 TDs in '17 and 21-374-6 in '18. Graduate transfer to UGa for last year and posted 33-476-4 in 9 games (6 starts) due to variety of injuries. Reliable possession receiver.
George Campbell, WR , West Virginia (6'4", 183) — Played at Florida State from 2015-18 and caught 13 passes for 206 yards (redshirted in '16). Transferred to WVU last year and led Mountaineers with 7 TDs on 19 catches for 469 yards — a rockin' 24.7 yards/catch that would've led FBS if he had enough catches to qualify.
Shyheim Carter, DB, Alabama (5'10", 194) — Top QB but also a national top-10 CB prospect as Louisiana high schooler. Became 'Bama starting S in '18, broke up 10 passes, intercepted 2 and returned both for TDs. Coming off sports hernia surgery last year, played in 13 games (11 starts) with 1 INT, 7 PBUs. Pronounced sha-HEEM.
Domenique Davis, DL, Pembroke (6'3", 315) — In his 3 seasons at the UNC system's Division II school, totaled 122 tackles, 15.0 tackles for loss, 6.0 sacks, 14 QB hurries and 2 fumble recoveries. Started all 21 of the Braves' games the past two seasons.
Javelin Guidry, DB, Utah (5'9", 191) — Top football/track athlete (sprinter) in HS in California who roared to 4.29-second 40 at NFL Combine — second-best among all invitees behind only Henry Ruggs' 4.27. In three seasons with Utes, played in 38 games, totaled 82 tackles, 3 INTs, 19 PDs, and was named All-Pac-12 honorable mention twice.
Jared Hilbers, OL, Washington (6'6", 310) — Started 11 games at LT in 2018 and 12 games at RT in 2019. A former basketball player, the Beaverton, OR native started playing football before his junior season at Beaverton HS where he played both defensive and offensive line.
Bryce Huff, DE/OLB, Memphis (6'1", 254) — Led the Tigers in TFLs and sacks in back to back seasons, earning second-team All-AAC both in 2018 and '19. In that span, he totaled 101 tackles, 34.5 TFLs, 16 sacks and 3 FF. In 51 games (25 starts) in four seasons, he racked up 136 tackles, 39.5 TFLs, 18 sacks and 4 FF.
Lamar Jackson, DB, Nebraska (6'2", 208) — Earned second-team All-Big Ten honors this past season, leading the Huskers with 15 PDs. A three-year starter, the Elk Grove, CA native totaled 123 tackles, 6.0 TFLs, 27 PDs, and 5 INTs in 49 games (36 starts). A former QB in HS, Jackson moved to the secondary his junior season and was the No. 13 ranked recruit in CA.
Sterling Johnson DL, Coastal Carolina (6'4", 285) — Began his collegiate career at Clemson in 2015 before he transferred in for the '18 season. The Clayton, NC native, was named a team captain in his first year with the Chanticleers and played in all 12 games. He's totaled 65 tackles, 15.5 TFLs and 6.5 sacks in 23 games the past two seasons.